Temple Nile Casino Review
Temple Nile is an Egyptian themed casino equipped with fancy visuals and a minimalistic colour scheme. When you first visit the casino, you'll be greeted with some of Ancient Egypt's most iconic features, including the world-famous pyramids, Cleopatra, and a brief glimpse of what Temple Nile has to offer – a bit of everything.
But how do we objectively decide what makes a good casino? There is only one rule here at the Top 10 Ranked Casinos, and that rule is an online casino should try to entertain everyone. Casinos that offer a range of games across multiple genres will score favourably, as opposed to casinos that cater for only one type of audience.
Now that we've got the technicalities sorted, let's discuss what Temple Nile does well. For starters, it's clean. When we say clean, we mean the clutter-free layout of the main homepage. The background colour is a shade of eggshell white, with the tabs and various other buttons adopting gold and beige tones. All these features combine for a relaxed experience when you visit Temple Nile, which is a good frame of mind to be in when you are about to wager your own cash.
The casino appears to use an easy-to-read minimalist style, yet some pages do not follow suit. When visiting the promotions page, there are several graphics that take priority over the site's content. Maybe this wouldn't be a problem if the visuals appeared more often on the site, but they give a disjointed appearance. It just seems a shame for an online casino to establish a clear and concise minimalist style and not stick with it on every webpage.
Temple Nile Welcome Bonus & Promotions
The welcome bonus for Temple Nile is a familiar three-stage deposit system. This is where you get three individual welcome bonuses once you make three separate deposits of at least £20.
The first stage of the welcome bonus is a 100% match of your first deposit up to £600. This also includes 30 extra spins for the Egyptian themed classic slot game, Wild Scarabs. The second stage of the welcome bonus matches 25% of your deposit up to £800 and includes 25 extra spins for Gonzo's Quest. The third and final welcome bonus also matches 50% of your deposit but includes a generous 50 bonus spins for the iconic Book of Dead.
While the welcome bonus at Temple Nile is better than the average online casino, the offer itself was not as clearly advertised as we would like. When you visit the promotions page, you must scroll down to find out important details, like what is included with the first stage of the welcome bonus.
These minor inconveniences end up giving Temple Nile a lower score on the Top 10 Ranked Casinos. It's worth mentioning, the welcome bonus at Temple Nile is only marginally lower in value than some higher casinos on our list. So, if you can look past a welcome bonus for a better experience, Temple Nile could be the casino for you.
What are the Promos & Offer Codes?
It seems like a formality for online casinos to offer new players a promotion or welcome bonus to get started. Any casino offering promotions for both newbies and existing players will stand out from the crowd. Temple Nile has a promotion all players can work towards, the Temple Bazaar.
The Temple Bazaar is a place to spend your hard-earned temple tokens on some rather fantastic prizes. You collect temple tokens for wagering a certain amount on specified games. Just so you know, slots and scratch cards have the highest yield for temple tokens for each £10 you wager.
The Temple Bazaar has an incredible assortment of prizes for you to consider, ranging from luxury watches to gift vouchers. At the bottom end of the scale, there are free spins for you to redeem on several slots. These spins also vary in bet size, meaning you can grab a sizeable amount of low bet extra spins, or only a few high bet spins. The prizes quickly ramp up with rewards like an iPhone 11 Pro, MacBook Pro, and even a luxurious holiday.
While it is not unusual for an online casino to have a cashback or reward system, the Temple Bazaar at Temple Nile was impressive. Being able to choose from a range of prizes, from the affordable to the downright ridiculous, is an incredible feeling.
Are There Free Spins?
There are several ways you can get your hands on free spins at Temple Nile. The first being the welcome bonus, where if you make three deposits you can claim over 100 extra spins for three slots. If you have already used these extra spins, you can save up your temple tokens and redeem them from the Temple Bazaar.
The Bazaar has seven slots for you to consider, each of which varies in amount of extra spins and bet size. The slots you can claim extra spins for include the Book of Dead, Deco Diamonds, Gold Factory, Football Star, The Sand Princess, Fortunium, and the Legacy of Egypt.
There may be other ways to get some extra spins, like signing up to receive certain marketing emails. However, at our time with Temple Nile, we did not receive any extra spins via an email promotion.
No Deposit Promotions
During our review, Temple Nile did not have a promotion or no deposit bonus available. It is worth noting that online casinos change their promotions regularly, so this may not be the case in the future. If any online casino we review on the Top 10 Ranked Casinos changes its promotions, we will update our review.
How Good is the Online Slots Selection?
The choice of slots here at Temple Nile is incredibly diverse. Not only is there an emphasis on Egyptian slots, and various other Ancient civilisations, but there's also a great range of modern and classic casino icons.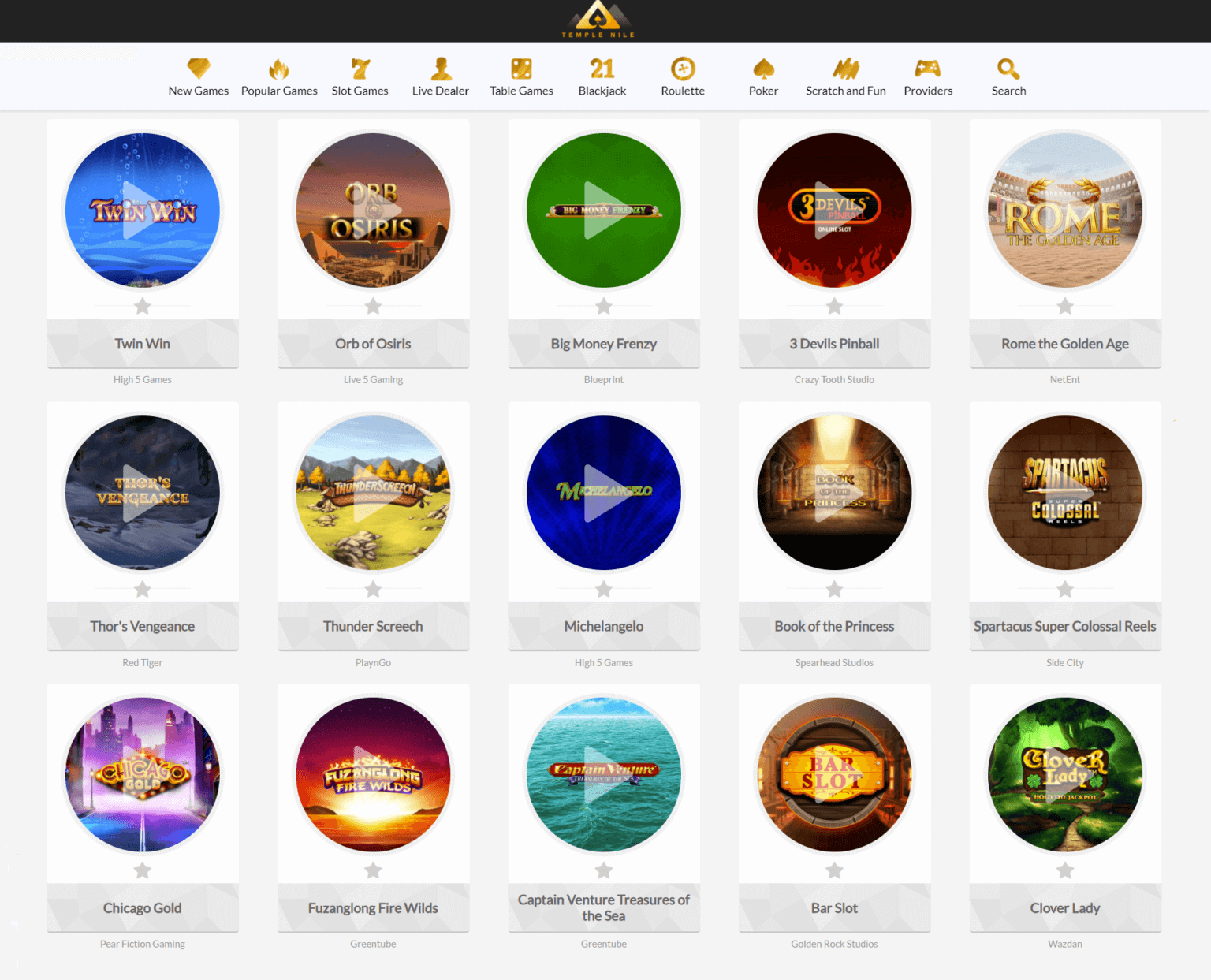 We have to commend the dedication to the theme at Temple Nile as they tried to include as many Egyptian and treasure themed casino games as possible. This may not sound impressive to you, but the commitment has led to an incredibly varied choice of games. The first 20 slots on the 'Slots' tab include games based on a multitude of cultures, namely Egyptian, Irish, Chinese, Greek, Indian, and South African.
We normally get concerned when we see a casino with a particular theme, as it often provides a very limited service. Having an online casino with only Egyptian themed slots would get tiresome quickly, so it's a tremendous relief to see this is a problem Temple Nile avoided.
The extensive range of slots at Temple Nile is a good thing, but it comes at a price. The incredible selection of games can make it difficult for you to find new results. There are a couple of ways to work around this problem, including using the search bar and the 'Providers' tab, but it may just require some patience to scroll through all the choices.
Is There a Choice of Live Dealer Games?
Temple Nile has a fantastic array of live dealer casino games. From casino icons like roulette, blackjack, and poker, to modern game shows like Monopoly Live, Temple Nile has a comprehensive selection.
The choice of live dealer table games at Temple Nile include roulette, blackjack, baccarat, sic bo, three card, Texas Hold'em, and Caribbean stud poker. Each live game has multiple tables for you to choose from, often with different minimum betting requirements. The best part of having this much choice is that it's easy to leave the table when it goes cold, or if the croupier is annoying. Having an extensive amount of choice is never a bad thing, and it helps keep things fresh.
The live dealer section of Temple Nile is clear and concise. You can see the current live croupier at each table, how many players are playing or spectating, and the table's wagering requirements. Depending on the live game you want to play, you can also see the most recent scores, how many free spaces are at the table, and whether you can bet behind another player.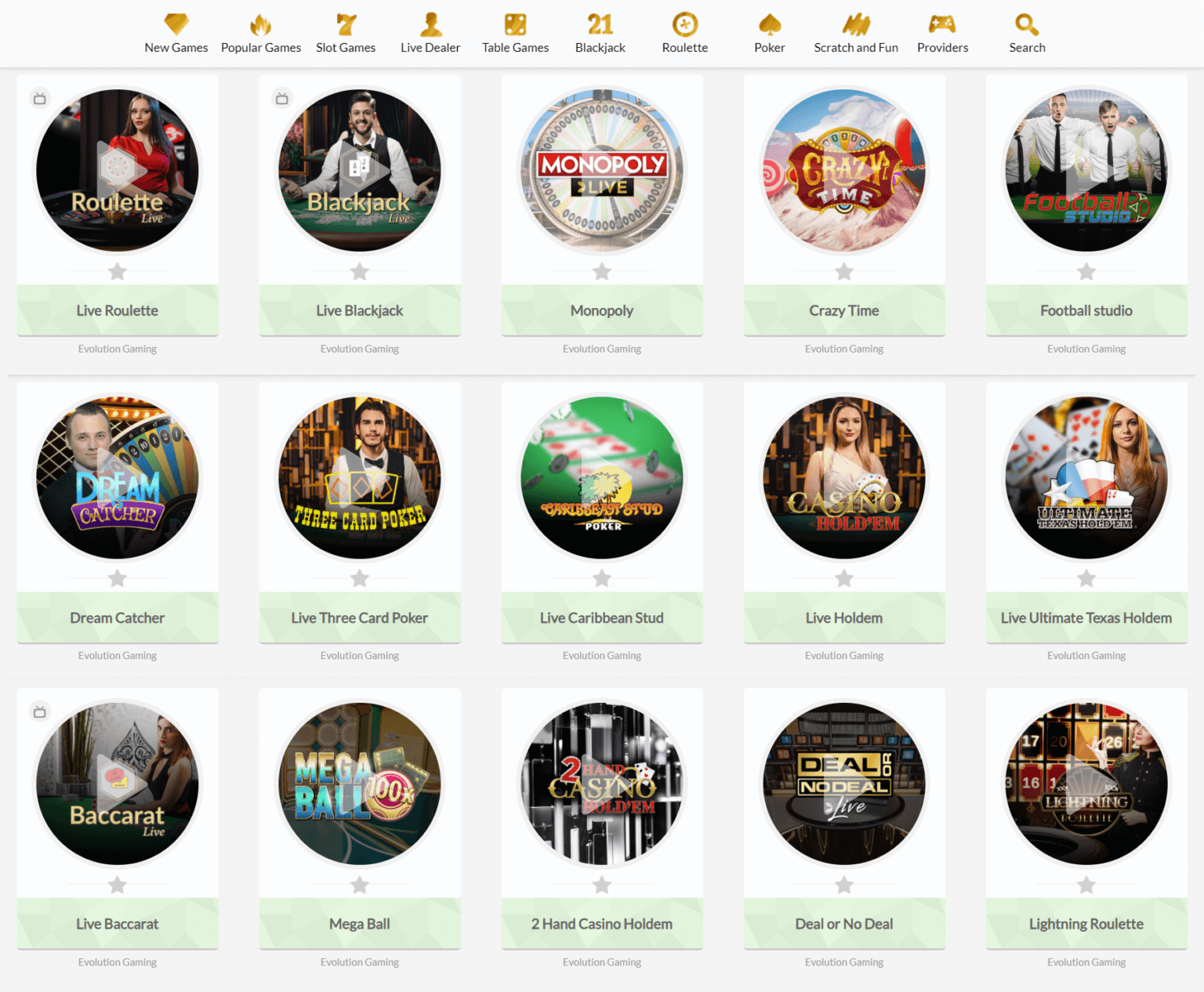 With a great selection of brilliant live games, Temple Nile easily earns a spot on the Top 10 Live Casinos.
Temple Nile Online Blackjack
Standing out from the crowd is one of the hardest things an online casino can do, especially for blackjack. Temple Nile does a good job of covering its bases but does not do enough to earn a spot at the very top of the list of the Top 10 Blackjack Sites.
What does Temple Nile have? Well, it has a diverse range of live blackjack tables, with wagering requirements starting from as low as a couple of quid and rising to hundreds per hand. In the unusual event that the 100 blackjack tables are full, you can always try your luck at betting behind, if you were so inclined.
The online blackjack options also deliver to a high standard. There is a fantastic range of blackjack games to choose from, including titles from online casino giants Microgaming and NetEnt. The other range of blackjack games to consider involve several side bets, which offer higher payouts than normal blackjack.
While you may not want to play six different side bets for blackjack, it's never a bad thing to have the option. Having the freedom to choose exactly what you want is something we can give Temple Nile kudos for.
A Good Choice of Roulette?
The choice of roulette at Temple Nile is another aspect that delivers, earning it a spot on the Top 10 Roulette Sites. Once again, an online casino standing out for its roulette offerings is a tremendously hard feat to accomplish. Which may explain why Temple Niles' offerings are competitive and comprehensive, as they don't need to reinvent the roulette wheel.
The selection of live roulette tables is not the most extensive we have seen at an online casino, but it has something for everyone. Whether you are looking for live double ball, European, or American roulette, there is a good range of options. If you were looking for a more exciting live roulette experience, Temple Nile has Lightning Roulette, where you can have your winnings multiplied up to 500 times.
Does Temple Nile offer good alternatives for players not looking for live croupiers? Once again, the answer is yes. The selection of roulette tables covers not just the basics, but it also provides alternatives if you don't like the graphics of one the games. There are roulette games from the likes of Microgaming, NetEnt, and 1×2 Gaming – which is not a bad list of names to choose from.
If you were looking for an online casino to play just roulette, Temple Nile is not a terrible choice. If you wanted an outstanding online casino for roulette, check out Dream Vegas.
Are There Online Poker Options?
The online Poker options at Temple Nile are extensive. The casino does not offer any player versus player action, but does host invite only tournaments for VIPs, which gives it a high score on the Top 10 Ranked Casinos.
As mentioned above, the live poker options are for table poker games. This means you are not playing against other players, and any money you win is from the casino's pocket.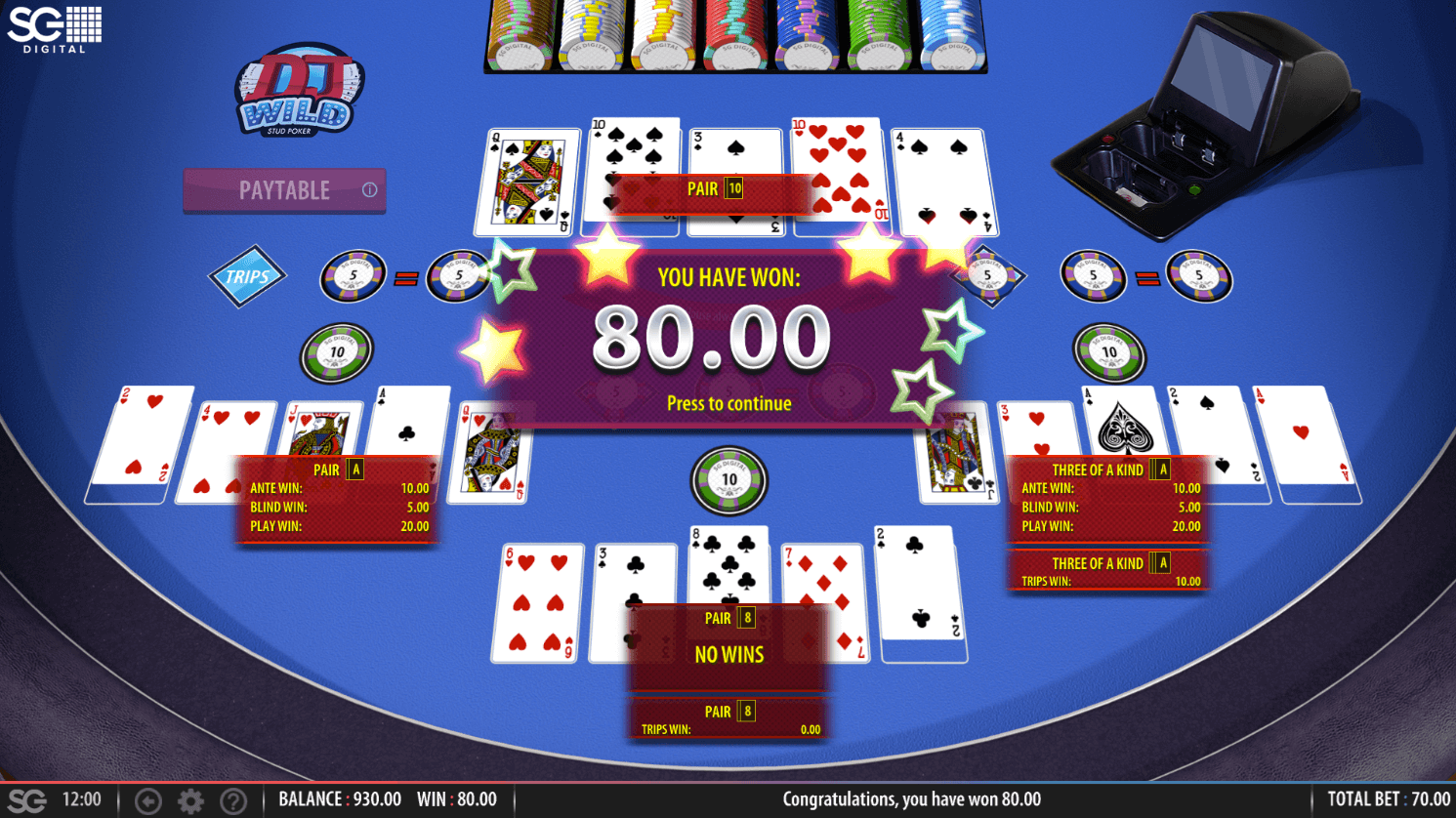 What range of live poker games can you play? There are four types of Texas hold'em games to choose from, including two hand hold'em. Temple Nile also offers live Caribbean stud or three card poker, if Texas hold'em is not your favourite type of poker.
The online poker options are also worth mentioning. There are a load of Texas hold'em games and variants to choose from, including hedge'em and let it ride. Temple Nile also has a selection of classic casino poker games, including jacks or better, Mississippi stud, and Fortune Pai Gow poker.
If you wanted an online casino with an outstanding selection of poker games check out Casimba.
Is Temple Nile a Mobile Casino?
Online casinos must do a lot of things right to achieve a good score on the Top 10 Ranked Casinos. One of the newest additions to our scoring system is how mobile friendly the casino's website is.
Temple Nile is a relatively new casino, which is a good thing for this category. It means the casino has considered mobile compatibility and works very well with mobile devices. The clean, non-cluttered layout once again plays into Temple Niles' hands, as the pages are impressively quick to load on mobile.
The mobile friendly features don't just stop with load times, the site itself feels very suited to a mobile device. The navigation toolbars stick with you as you scroll down the page, making it easy to browse and search at the same time. Clicking on the 'Popular Games' tab will allow you to change the genre of games being displayed, you can accomplish the same when you click on the 'Games' tab in the bottom right corner.
Anything Else?
Other user-friendly features include the favouriting system. This system is not exclusive to mobile, but really comes in handy on a smaller screen. Any games you favourite appear at the top of the page, below your most recent games – which saves you having to search or scroll through them. By the end of our visit, we had a humongous selection of favourite games, allowing us to find the ones we liked without searching.
While it is clear they built Temple Nile for mobile, the fact it worked very well across multiple devices and browsers, there was one minor issue. Whenever you play a game, it's added to your list of recently played games. However, because of formatting issues with the 'clear' button, you can't erase or remove the games from this list on mobile devices. The button appears at the top of the page, and the main navigation bar covers it no matter what. This is not a tremendous problem, just a mild inconvenience as you need to go on your PC to erase these games.
While the mobile experience at Temple Nile is impressive, it is still not 100% problem free. If you were exclusively looking to play an online casino on your smartphone or tablet, Temple Nile is still a superb choice.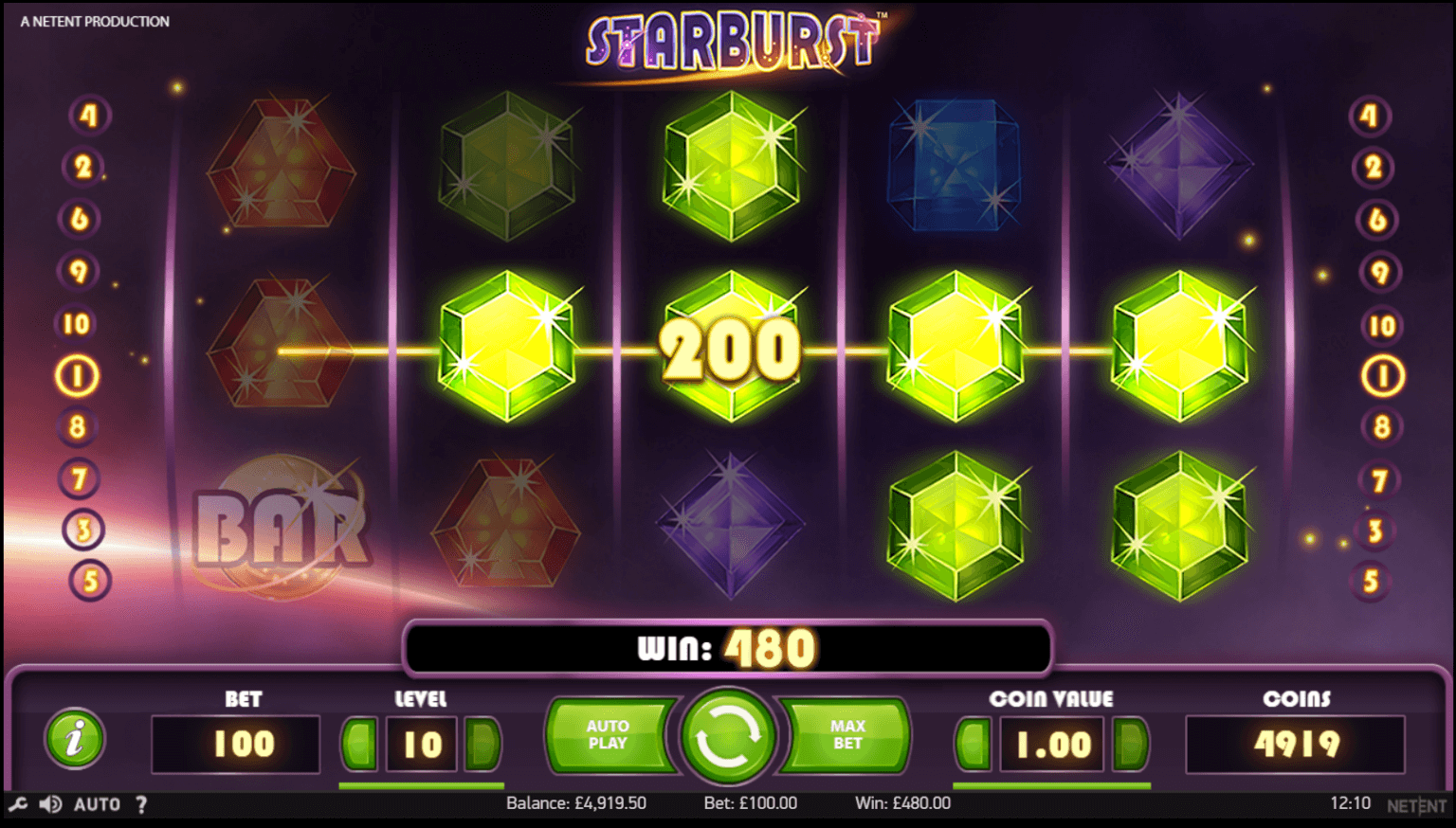 Temple Nile Withdrawal Time
The withdrawal speeds at Temple Nile fluctuated between 24 and 72 working hours. Our first withdrawal took the longest at around three working days, with the next around the 48-hour mark.
The industry standard for withdrawal times is between two and three days, meaning that this casino is marginally quicker than normal. Being able to get your money out as quick as possible is always ideal, but the service at Temple Nile was satisfactory.
Overall Impressions of Temple Nile
After spending more time than we would like to admit with Temple Nile, we feel like it's a very good casino. While we wish for certain changes mentioned in the review, we accept these issues are incredibly minor – especially when compared to most online casinos out there. Any casino that makes it onto our site should be extremely proud of what they accomplished.
There is a lot to complement Temple Nile on. It has a wide selection of almost every type of casino game, it has an active and friendly support service, and it offers a stand-out reward system. Sure, most of us will never save enough temple tokens to redeem a shiny new iPhone, but the free spins are well within your reach. Being able to regularly source free spins is one feature we would like to see more of – plus having the chance to claim an iPhone is good too!
Our overall experience with Temple Nile is resoundingly positive, which makes it easy to recommend. If they make minor changes, this casino could easily be in contention for one of the top spots on our list. The way it is now, it stands out from the crowd with its theme and dedication but lacks that established name rise above the tried and tested names like The Grand Ivy.
Either way, if Temple Nile continues to offer an excellent service with a large range of casino games, it might not be long before this casino rises to the top.
Pros & Cons
Great customer service
Casino available in Instant-play format
Mobile-friendly
Live Gaming Present
Excellent loyalty Point Rewards
A large list of excluded countries
Needs a more consistent house style