Spinland Casino Review – Spin us Round!
Spinland is an online casino with an abundance of choice, no matter what games you enjoy playing. With a terrific range of slots, the latest live games, and a fantastic selection of table games, Spinland is one of the best online casinos out there.
The theme at Spinland differs from what you would typically expect when visiting an online casino. Instead of following the traditional dark and serious colour schemes, this casino has opted for a bright, vibrant, and cartoon-like header image. The unconventional colours are further emphasised by the cell-shaded mascots at the top of every page, including Jimi Hendrix and Gonzo from Gonzo's Quest.
While the above may not sound like a big deal, it catches the eye and sets the site's tone in the right way – it's fun! While most online casinos leave the excitement to the casino games, Spinland does a sterling job installing giddiness from the homepage.
Besides the weird and wonderful visuals, the online casino maintains a concise layout. The categories for different casino games appear at the top of the page and follow you down as you browse. The site's main navigation menu only appears when you click the button in the top left corner, maximising your screen space.
Can we recommend Spinland?
Before jumping into any other details, can we recommend this casino? Yes, because it's an online casino that caters to players very well. Sure, wagering your own money is a serious business that requires excellent decisions from the players, but it's also about enjoyment. Having seen so many casinos all try to set a serious, dark, and often gruesome tone, it's a breath of fresh air to see something a bit more uplifting.
One thing to consider, recommending an online casino is no straightforward task as each player has their own favourite casino game. We here at the 10 Best Online Casinos try to recommend establishments where whatever type of player you are, there is a wealth of games for you to enjoy.
Spinland Promotions & Bonuses
They split the welcome bonus at Spinland into a three-stage deposit system, which is a fancy way of saying you get a reward for the first three deposits you make. This is a promotion we see more and more online casinos adopting, and it usually offers good value for money.
The welcome bonus' first stage is a 100% deposit match up to £400 with 50 bonus spins for the incredibly popular Starburst. The second stage is a 50% match up to £250 and includes 100 bonus spins for the iconic Gonzo's Quest. This leaves the final stage, a 100% deposit matched up to £250 and comes with 50 bonus spins for Reel Rush.
Every casino on our 10 Best Online Casino Sites has a superb welcome bonus, but some promotions are better suited to certain types of players. If you are the type of player to deposit small amounts, then the welcome bonus at Spinland is perfect for you. The highest amount matched is £300, so it's easy to get the maximum value from each stage of the welcome bonus.
Are There any Promo Codes?
Spinland has a section inside your account that allows you to enter promo codes. The codes are sent out via email or SMS, meaning you must have opted into the marketing material to receive them.
If you were like us and did not receive a promo code, there is another promotion you can participate in. If you collect 1,000 loyalty points within one month, you might win a luxury holiday to Thailand or a South African safari. You can also convert your loyalty points into bonus cash.
Online casinos freshen up their promotions regularly, making our job even harder. If any casino we review changes its bonuses, we will try to update our 10 Best Online Casinos list and review.
Are There Free Spins?
Spinland gives new players free spins for the first three deposits they make. The spins are for some big names in the world of slots, including Starburst, Gonzo's Quest, and Reel Rush. While it's relatively common practice for an online casino to give out free spins, it's rare that the free spins are for such highly regarded slots.
Besides how popular these slots are, the number of free spins given is more generous than your average casino. After you make your first three qualifying deposits, you will get £800 in bonus funds and a whopping 200 bonus spins, 100 of which just for Gonzo's Quest.
Any free spin is a sight to behold, but the ones given at Spinland are substantial. All the casinos on our 10 Best Online Casino Sites have a superb welcome bonus, but this one stands out from the crowd.
Spinland No Deposit Bonus
Spinland does not offer any no deposit bonuses for new players. However, there is a VIP system that promises loyalty gifts and cash bonuses which do not require a deposit. VIP members can also get exclusive invites to private tournaments, cashback offers, and free holidays.
Is There a Good Slots Selection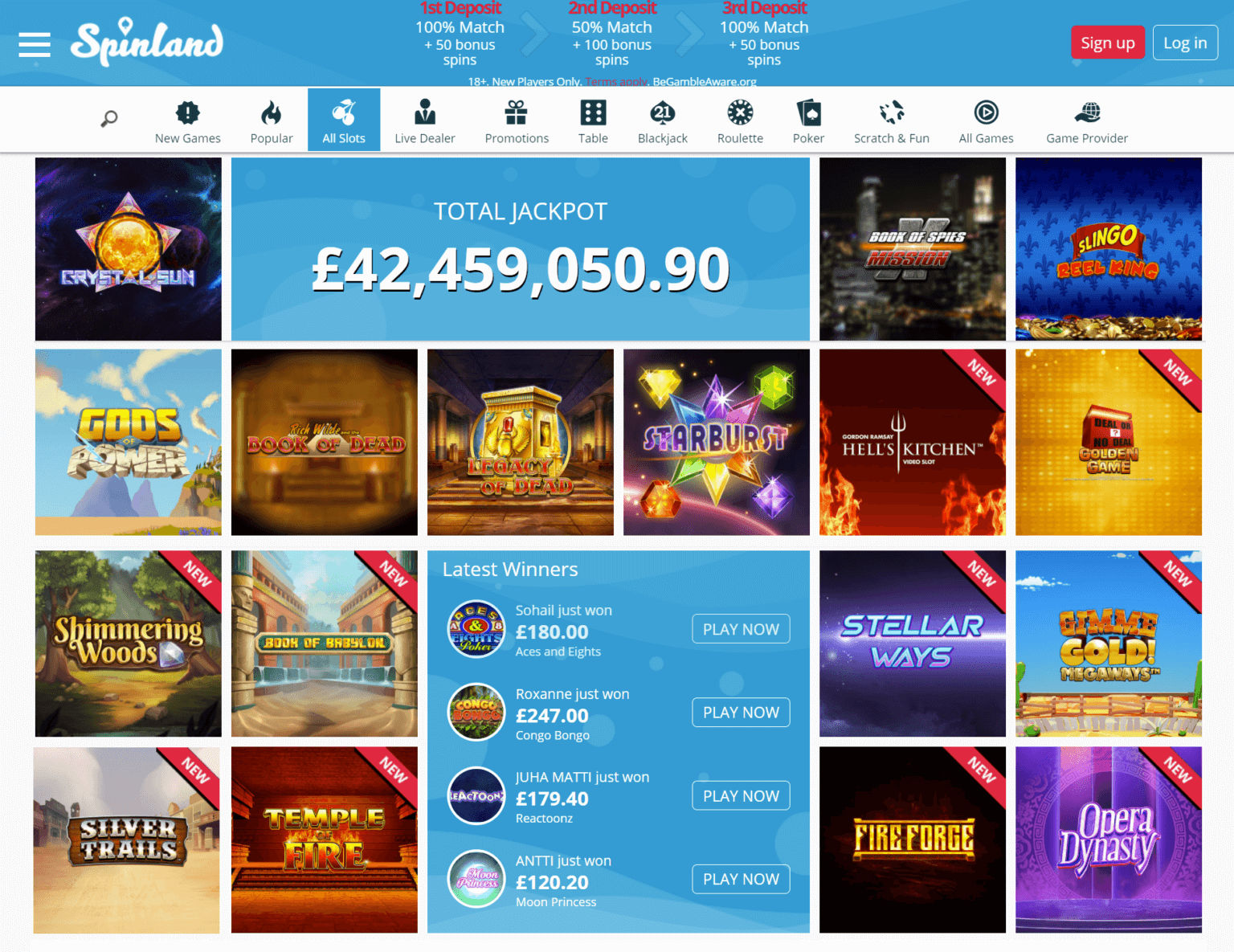 As you might have guessed from the name, Spinland has a fantastic array of slots. Whether you like to play slot icons, like Rainbow Riches, or want to try something new, the choice is enormous.
Throughout our time with Spinland, it pleasantly surprised us how regularly new slots were introduced to the platform. They often add new games to the platform every week, with sudden influxes around major events on the calendar, such as Halloween and Christmas.
If you like to monitor the latest slots hoping to find a new favourite, once again, this casino will not fail you. Simply click on the "New Games" tab and browse the past few weeks' worth of recent additions to the site.
Lastly, the vast selection of slots is not just limited to the traditional; there is an incredible range of progressive slots for you to choose from. Jackpot slots like Hall of Gods, Mega Moolah, and Monopoly Big Spin are just a couple of the 80+ available.
If you wanted to play at an online casino with an unrivalled slot selection, check out our Jackpot Village review.
How Good are the Live Games?
Live casino games have steadily become more and more popular, which is a good thing! It means that online casinos are offering a competitive service and experimenting with some fantastic games, like Monopoly Live.
The options at Spinland are outstanding for any players looking to get in on the live dealer action. There are multiple poker, blackjack, roulette, and baccarat tables to choose from. The casino also offers support for several live game shows, including Crazy Time, Lightning Roulette, and Deal or No Deal Live.
Certain games on the live dealer page display the past few results, which is a great way to see what you have missed without joining the lobby. You can also hover over the games' icon to get a live feed, allowing you to see the current round and even who the croupier is.
The live dealer page also displays how many players are in each game and where you can sit at a blackjack table. Seats are marked as available, allowing you to select the exact one you want from the main menu.
The entire live dealer section is full of useful tools to help make your life easier. Far too often, casinos make it hard for you to join a table and get playing, so it's great to see steps to help combat this problem.
A combination of the games available and the user-friendly tools helped get Spinland amongst the 10 Best Live Dealer Sites.
Does Spinland have Blackjack?
There is a fantastic range of blackjack options at Spinland, for players who like to go up against the live dealers or the computer.
If you wanted to play blackjack with a live croupier, it would delight you to know there were over 90 tables available. When the tables are full, you can bet behind while waiting for a spot to open. The site displays the number of players at each table before you join a game and each table's wagering requirements.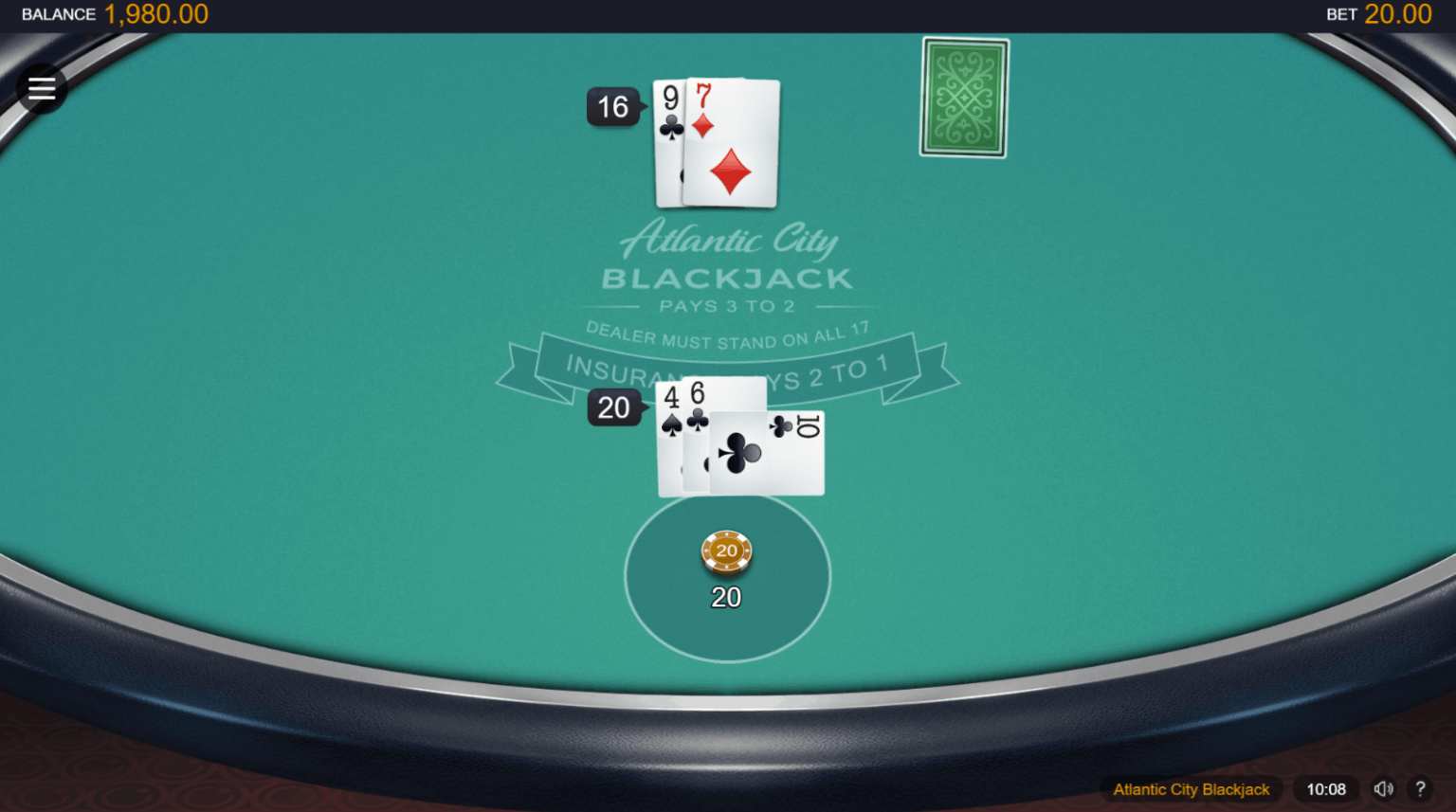 Players looking to avoid the live croupiers can make use of the brilliant blackjack games available. When games are developed by the likes of NetEnt and Microgaming, you know you are in great hands.
The diverse range of options at Spinland earned it a spot in the 10 Best Online Blackjack Sites.
How Good are the Roulette Tables?
Once again, Spinland offers a wonderful choice of roulette tables. There is a brilliant selection of live-streamed games and a superb array of online tables simulated by the computer.
For players looking to regain that authentic casino feeling, live roulette is the game for you. There are over ten live roulette tables at this online casino, with popular variants like Double Ball and Lightning Roulette. The live roulette options also include automated tables, such as American, European, La Partage, VIP, and Speed Roulette.
Similar to the live games, the online roulette options are expansive. There are many choices to consider for players looking to either play the latest high-quality roulette or the classics. While it's easy to find some online roulette games at other casinos, having several in one place is a massive bonus.
Choosing any of the casinos listed on the 10 Best Online Roulette Sites is a sure-fire way to find a brilliant casino for roulette.
Are There Multiple Poker Games?
Poker is one of those casino games where having multiple tables for the same game is excellent, but having variations is even better. At Spinland, there are a lot of options for new players looking to get to grips with poker and experts looking for a new favourite.
If you want an online casino to play live poker, Spinland is the one for you. There are many Texas Hold'em tables to consider, plus live Caribbean Stud and Three Card Poker. All the live tables display the minimum bet, number of current players, and even the current croupier, allowing you to choose the table right for you.
The online poker options will thoroughly entertain players looking to avoid interactions with the live dealers. Once again, there are more Texas Hold'em games than you can shake a stick at; but that's not all Spinland offers. There are casino classics like Jacks or Better, Texas Hold'em variations like Let It Ride, and new additions, such as Casino War.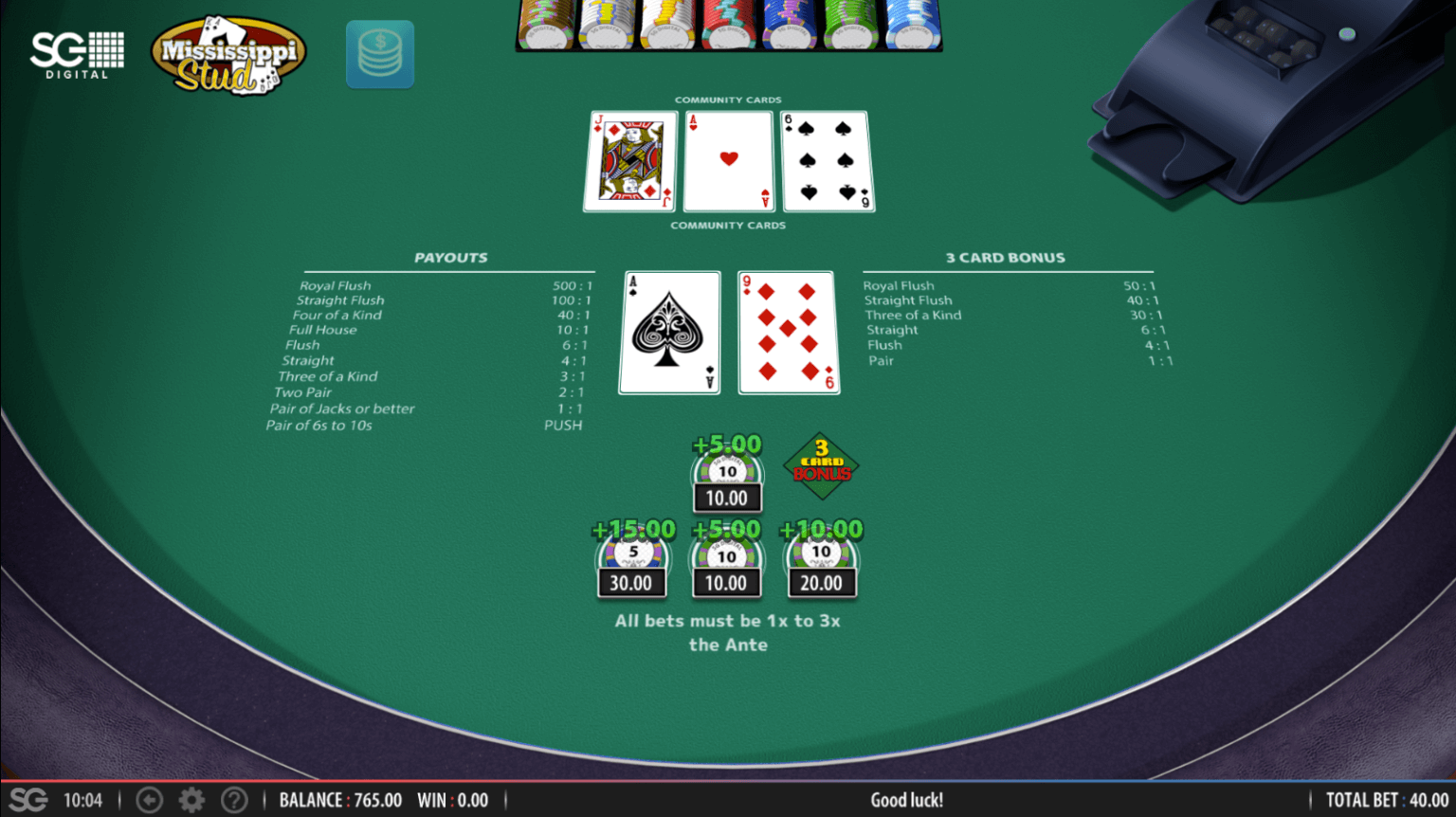 Is Spinland a Mobile Casino?
We believe that every online casino needs to have mobile and tablet support for players looking to play on the go. This is something Spinland provides brilliantly. Whether it's through your mobile web browser or the standalone app, there was consistent support for every mobile device we tried.
Interestingly, Spinland does not use any text for each game icon, instead it relies heavily on the icons' legibility and your ability to recognise your favourites. They did not alter this feature for the transition to mobile, which has proven to be quite useful. Most game icons have the name of the game in big, bold letters and distinguishable fonts, allowing you to tell games apart without stopping and studying them. The lack of text means the site can display more icons per row without shrinking them, so there are more results per page, and they are easily identifiable.
One feature the mobile version of Spinland does exceptionally well is making sure your experience was clutter-free. They gave a lot of thought to how the casino looks on a small screen, so they removed unnecessary icons which took up a lot of space, giving more space to the games. They tweaked the category toolbar, which follows you down the page, to fit on mobile devices. The most used tabs have survived the transition to mobile, which makes finding games a lot easier.
Looking for a casino that has a standalone app for Android and iOS devices? Why not check out Dream Vegas?
Spinland Withdrawal Times
The average withdrawal timeframe for online casinos is between two and three working days. While our first withdrawal at Spinland took three days to appear in our account, the next few took around two.
One perk of becoming a VIP is that players will have monthly reviews to adjust their withdrawal limits. While we did not have any problems withdrawing, players making substantial withdrawals may need to become VIP members to withdraw their cash in one go – which is a problem we all wish we had!
Overall Impressions Spinland
After spending a lot of time with Spinland, it became straightforward to recommend. Everything from the choice of games to the pages' layout seems tailored to giving you the best experience.
If you wanted just to play slots, not only are there well over 1000 different slots to choose from, but new ones were continually being added to the platform. They also have thrilling table games, including roulette, poker, and blackjack.
If the consistency of new additions has not convinced you, there are plenty of other positives that should win you over. For starters, there is a top-notch support network in place, where you can get in touch with an actual person in a matter of minutes. The online casino also has hundreds of game providers, including over a hundred titles from the industry leading NetEnt.
While it may seem unusual to judge an online casino by its support network or its colour scheme, it all adds up. Remember, if every part of the casino is running excellently, what more could you ask for?
Pros & Cons
Instant-play, mobile casino
Impressive collection of slots from multiple providers
eCogra proven fair
Mobile friendly
Multiple restricted countries