Miami Dice Casino Review – Time to Roll the Dice
Before we dig into Miami Dice and what it offers, let's consider what makes a good online casino. For a casino to score favourably on our Top 10 Ranked Casinos, it must try to cater for all types of players. Whether you are a poker fanatic or a slots spinner, any casino we recommend must have something for everyone.
Miami Dice is a bright and vibrant casino with an incredible range of developers and casino games. With its tantalizing welcome bonus and wide variety of slots, Miami Dice is a far more attractive online casino than it seems at first glance.
Our immediate impression of Miami Dice was pleasant. For starters, there is an incredible selection of slots to choose from. Whether you are after slot machine icons or something new, it certainly leaves you spoilt for choice. While the rest of Miami Dice's offerings are nowhere near as varied as their slots, there is still enough here to satisfy most players.
The colour scheme took some getting used to, especially since we are used to playing on dark and dreary casinos. The pastel colour scheme is easy on the eyes during the daytime but can be a little abrupt after playing a dark themed casino game.
Miami Dice Promotions & Bonuses
If you are like us, then you know the excitement of a casino starts before you even enter the doors. In an online sense, the excitement begins with an attractive welcome bonus or promotion to help you get started.
The welcome bonus for Miami Dice was certainly alluring. The three-stage promotion matches part of your deposit up to a certain amount, each of the first three times you make a deposit. The first stage of the welcome promotion is the most generous, as you can get up to £400 in bonus funds and 50 spins for one of the best slots ever made, Starburst.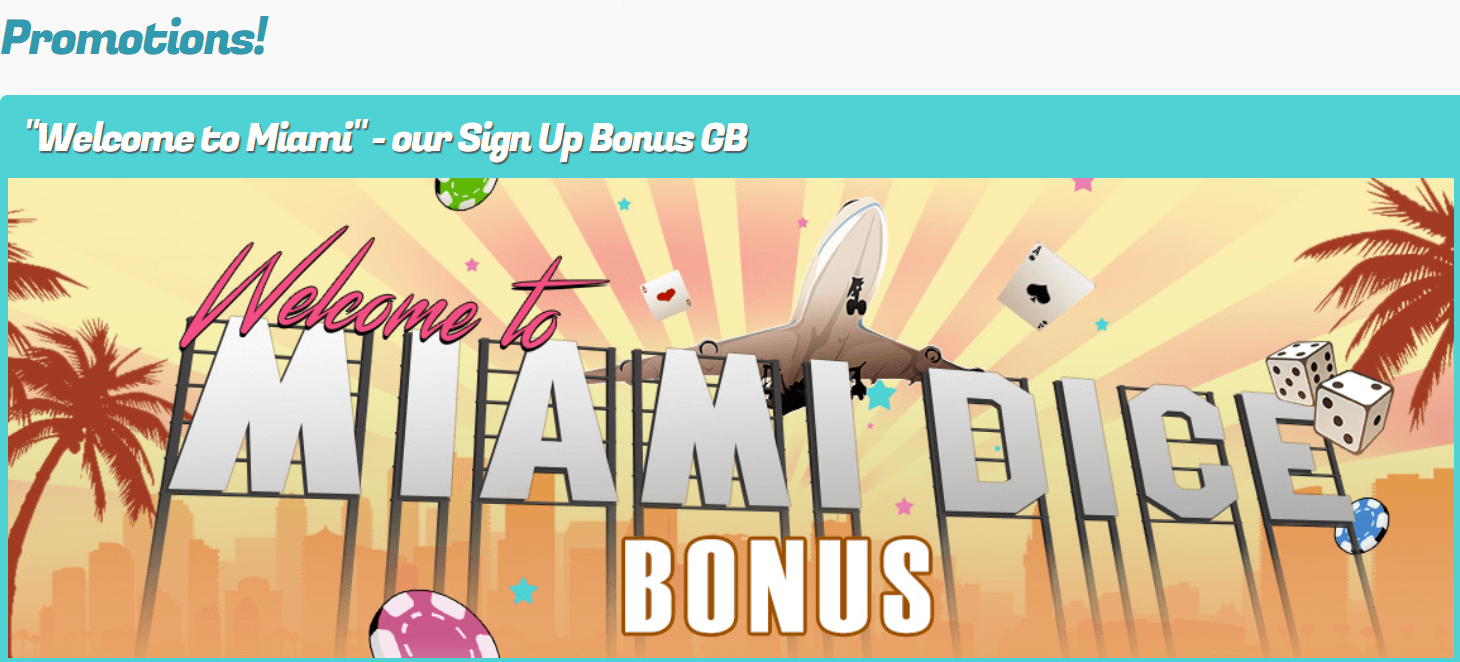 The next stages of the welcome promotion also match your deposit, but only at 50 and 75%. As part of receiving your bonus funds, you will also get 100 bonus spins for another slot icon, Gonzo's Quest and 50 bonus sins for Aloha Cluster Pays.
While we appreciate any welcome bonus, the Miami Dice promotion is a great way to get started. Getting bonus spins from an online casino when you sign up feels like a formality, but that doesn't mean a casino offers you free spins for the best slots. Getting free spins for Starburst and Gonzo's Quest is not only fantastic for new players, but it should delight veterans to see such big names. There is nothing worse than getting free spins for a slots game nobody wants to play.
Once you have used up the free spins from this welcome bonus, why not check out the games and promotions at Casimba Casino?
What are the Promos & Offer Codes?
As with most online casinos, there are several promotions available for players besides the initial welcome bonus. At Miami Dice, players who amass 1000 loyalty points can enter a raffle to win a trip to Miami.
Miami Dice has a section on the website where you can enter promo codes, but we could not find any. When you first create an account, it will ask you to update your marketing preferences. If you would like to receive a promo code at some point, then you should opt in for emails and marketing information. Opting out will mean you will never get emailed about any promotions.
Promotions and welcome bonuses change all the time at online casinos. However, they did not during our time in Miami Dice.
Free Spins
When you sign up to Miami Dice, you can claim up to 200 bonus spins once you make three deposits. The minimum you can deposit to claim this welcome bonus is £20, meaning to claim all 200 spins you will need to deposit at least £60.
As mentioned above, the spins themselves are for some quite brilliant slots. Starburst, Aloha Cluster Pays, and Gonzo's Quest are all top-tier slot machines for beginners and veterans alike. They all offer a unique experience, allowing new players to get a taste of three very different slots just by signing up.
As far as a welcome bonus goes, it's a great place for beginners to get to grips with slot machines and how they vary. Veteran players will know that bonus spins for the slots included in the welcome bonus are worth taking, the only negative being the wagering requirements.
No Deposit
There are no bonuses or promotions which you can claim on Miami Dice without making a deposit. To claim all the bonus spins, you will need to make three separate deposits, all at least £20 in value.
Casino promotions and offers change all the time, so there may well be a no deposit bonus in the future.
Slots Variety and Quality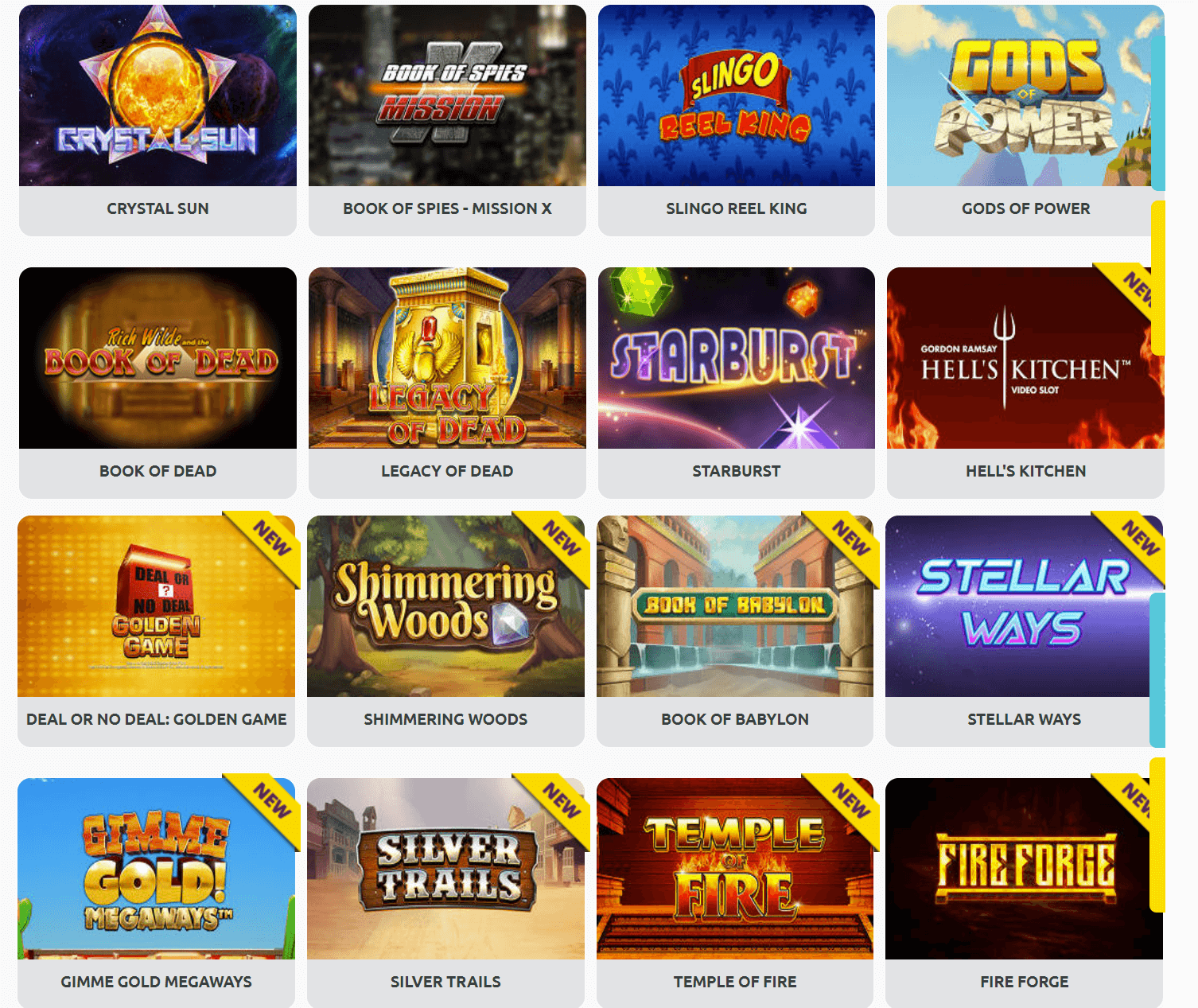 When reviewing online casinos for the 10 Best Slot Sites, we keep an eye out for variety and diversity. Which means we aren't just looking for big names like NetEnt and Microgaming, we are also keeping an eye out for indie casino game developers.
This is because more often than not, online casinos host the same few big names and not much else, making it hard to recommend. When we make a recommendation to you, it's because we believe most players will enjoy their time playing at this one casino, rather than jumping around.
Miami Dice has an incredibly extensive range of slots from a diverse assortment of developers. Whether you are looking to play the icons, or some hidden gems, the choice of slots at Miami Dice is impressive to say the least.
There are probably over 1000 different slot games at Miami Dice, which can make it troublesome to find the game you want. You can't sort through the hundreds of games by theme, type, or wagering requirements. So, make use of the search bar where possible.
We are always looking for casino games we have never played before, which makes the search bar difficult to use. This may well be a problem exclusive to us, we would like to see a few more tools to help us find the game we want to play.
While it can be entertaining to scroll through a list of casino games as extensive as the one at Miami Dice, sometimes we just want to jump straight in. The 'Popular' and 'New Games' tabs are excellent ways to bypass the enormous variety of games available at Miami Dice as they save a lot of time spent browsing.
Live Dealer Games and Selection
The selection of live dealer games here at Miami Dice was impressive, earning it a solid rating on the 10 Best Live Online Casinos. There is a good combination of traditional live casino games and game show-styled games. The live casino games offered by Miami Dice included multiple variations of each game. There are four types of Texas Hold'em, several blackjack games, and four types of roulette, including European, American, and lightning.
If you are looking for an online casino with a varied collection of game shows, Miami Dice does not disappoint. It has a wide range of games, including ones with a high RTP, where payouts are regular and reasonable, like Deal or No Deal Live. Plus, they also have volatile game shows where you can win over 500x your stake, like Monopoly Live.
With its incredible selection of live tables, each of which clearly displaying how many people are playing and the minimum bet required, Miami Dice is a fantastic option to consider.
Miami Dice Blackjack
When we are examining the selection of blackjack games available at an online casino, we are looking for two key features. The first being a wonderful array of blackjack games, each with their own art style and quality of graphics. The second feature focuses more on the side bets you can make during the game.
Miami Dice has a great variety of blackjack games for you to choose from, which resulted in a humongous score on the 10 Best Online Blackjack Sites. Whether you are an experienced player looking to make side bets, or a beginner trying to learn the ropes, there is something for everyone.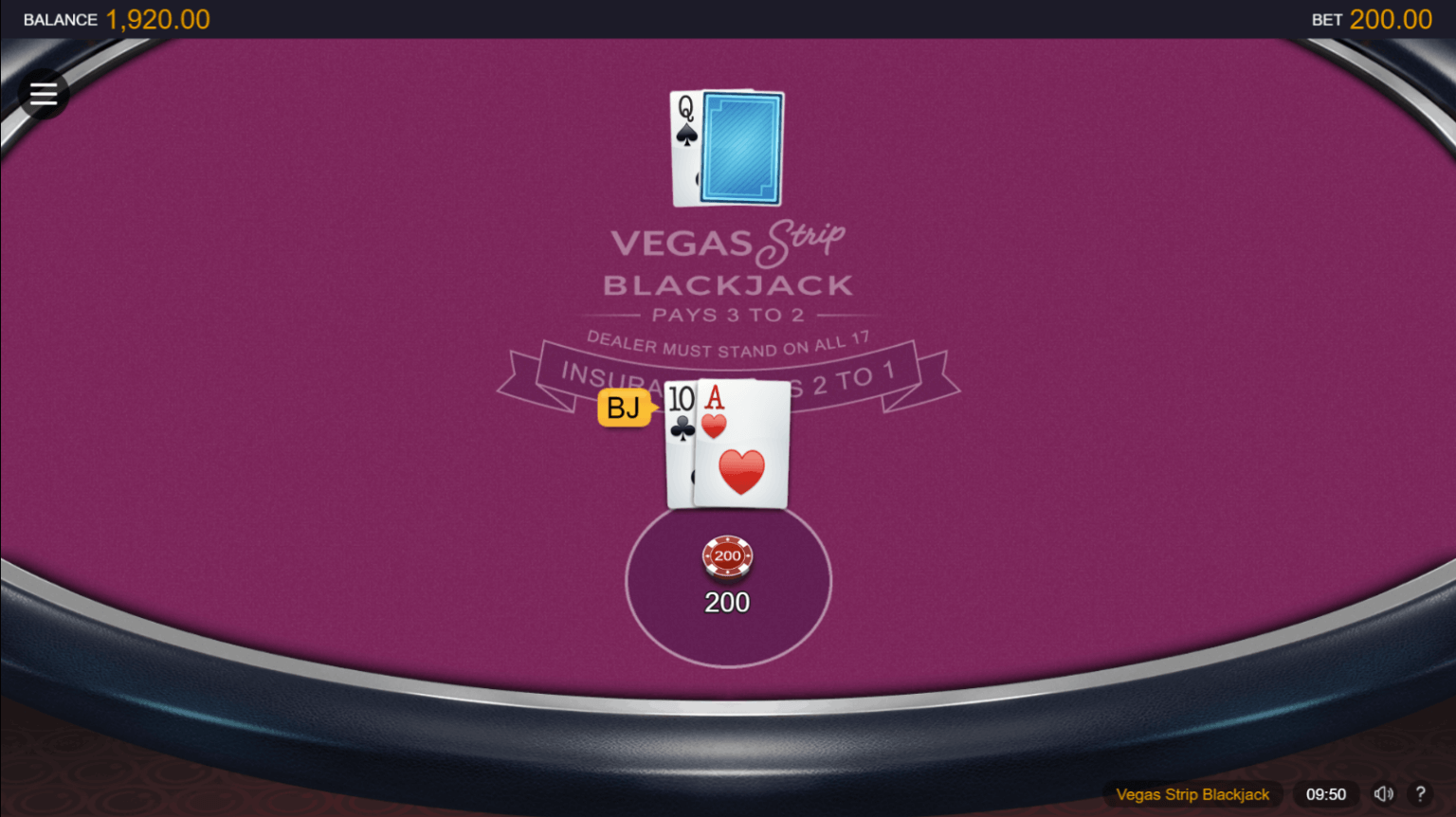 If you were coming to Miami Dice just to play blackjack, it would satisfy you to know there is a varied choice of games, including nearly 90 live tables to choose from. With minimum bets starting at £5 per hand, and the chance to bet behind from as little as £0.50, the live blackjack at Miami Dice is surprisingly good.
Is there a Choice of Roulette?
Roulette is one of those casino games where it's incredibly kind one minute, then unforgivably cruel the next. What we mean to say we don't take into account winnings while looking over the roulette games available at an online casino. Instead, we are far more interested in the selection and variety of roulette games to choose from.
Once again Miami Dice does not disappoint with its range of roulette games, resulting in a high score on the list of the 10 Best Online Roulette Sites. It has the traditional variants of American and European roulette tables, and the often-entertaining double ball roulette.
Miami Dice has several live table roulette games, which can help spice up your daily activities. Talking with the live croupier is always more entertaining than you might think. On the occasion where the croupier is getting on your nerves, there are multiple live roulette tables to swap between.
Overall, if you were looking for an online casino to play roulette, although it's not in the name, Miami Dice does not fail to deliver. If you want to visit a casino with an unrivalled selection of roulette tables, make sure to check out Dream Vegas Casino.
How Good is the Choice of Poker?
Poker at Miami Dice is far from disappointing. There are a range of live options for you to choose from, including Texas hold'em, three card, and Caribbean stud poker. These live tables put you up against a professional croupier, so any winnings are from the house, not other players.
If you are looking for a casino with a mix of live and online poker games, Miami Dice is an excellent choice. There are plenty of online poker variants for you to play against the computer, including some from big names, like NetEnt. Not only does Miami Dice have the most popular poker variants, like jacks or better and Texas hold'em, but there are plenty of other games to consider, like Pai Gow and Mississippi stud poker.
A casino like Miami Dice does host private tournaments for VIP members, but it's safe to assume these events are for high rollers only. If you are a competitive player, then you should try to join the Miami Dice VIP program, where you can get access to invite only tournaments.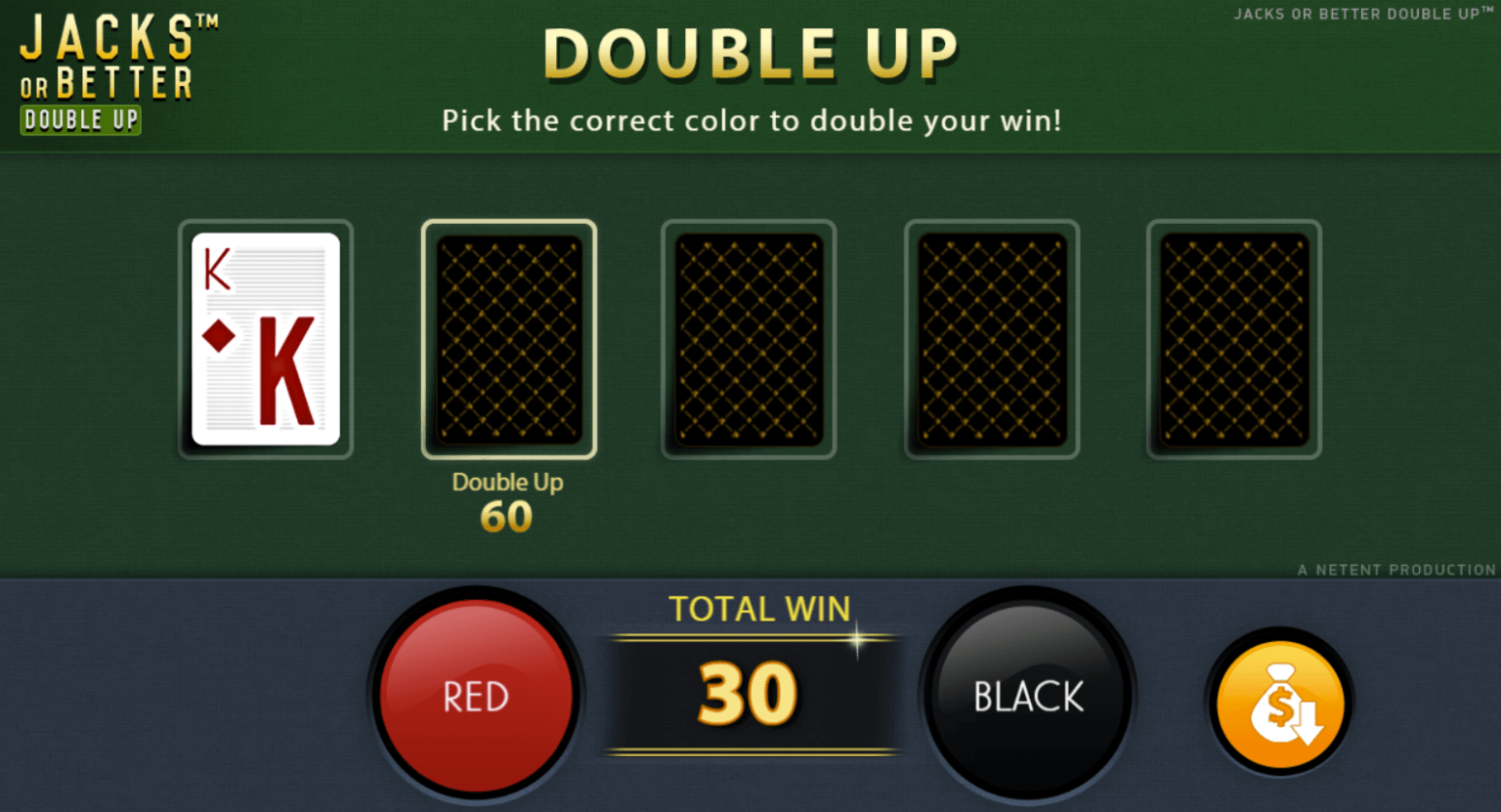 Miami Dice Mobile Casino
One feature we have been paying more attention to now more than ever is mobile compatibility. Which begs the question, how well does everything function on a mobile device? For starters, very well. They have formatted the text and icon size for each casino game, making it easy to read on a small screen. Navigating the site on mobile is just as intuitive as our tests on a computer.
Games often require you to rotate your device into a landscape orientation, which is necessary for games with small buttons or text. We did not have any issues with the game detecting our device's orientation when using the recommended browser, in our case Safari. But when using other browsers like Google Chrome, sometimes slight movements could cause the game to stop, as it thought we had changed orientation.
Overall, the experience on mobile is pleasant and plenty functional with very few problems to report. It's clear Miami Dice is a casino you could enjoy on the go.
Miami Dice Withdrawal
Withdrawals at Miami Dice took on average over a day or two to process, which is marginally quicker than the industry standard of two to three working days. Interestingly, if you are looking for a casino with speedy or immediate withdrawals, Miami Dice still might be an option for you. As you climb the VIP ladder, which begins at silver and goes up to diamond, you'll gain access to perks such as "super-fast withdrawal to your preferred payment option."
We weren't able to climb the VIP ladder in time for this review, but if they accurately describe the perks, then Miami Dice remains an attractive option. The rate of withdrawal was marginally quicker than the industry standard for non-VIP players, and there is the possibility of drastically increasing your cash out time, depending on how much you will spend.
Miami Dice Casino Overall Impressions
Miami Dice is a great online casino for new players, whether you are just starting out, or looking for a new casino to join. With its incredible range of slots and varied choice of table games, there really isn't much Miami Dice is missing.
Miami Dice has an incredible selection of games to play, which can make it difficult for you to find the game you want to play. We recommend learning the names of any games you want to play, as using the search bar is the quickest way to find the game you want.
If you quite enjoy browsing, then you'll really enjoy scrolling through the list of hundreds of the latest and greatest slots. There is something incredibly soothing about trying to find the perfect game to play.
Overall, we would recommend you sign up and try out Miami Dice. Whether you are looking for live casino games, slots, or table games, there is an abundance of choice and variety at this casino. It's not the best online casino in one particular way, but it offers an equally great service to all players.
Pros & Cons
Great choice of slots
Very responsive live chat and support network
Plenty of live and table games
Decent welcome bonus
A lack of dice-based games
Out of date game tabs
Need to introduce search refinement tools