Spin Station Review – Time to Spin?
As the namesake suggests, you are right to expect that Spin Station has an outstanding range of slots. However, that does not mean the online casino under-delivers in other areas. It has a fantastic range of poker games, roulette tables, and live games.
The first impressions of the homepage involve an eye-catching header image, featuring an animated slot wheel. The giant reels do not line up as a winner, which is a much more realistic representation of online slots, as not every spin gives a payout! After you're finished gawking at the fancy visuals, the homepage takes a more basic approach where it's just you and the casino games.
While judging aesthetics is normally a subjective activity, the theme and visuals have a resounding impact on you when visiting the site. The giant slot and variety of game categories immediately cause excitement, which is the right mood to be in when playing online casino games.
Spin Station uses a fantastic mix of visuals and simple colours to create an immersive experience. The casino game icons are large, making them easily distinguishable, and each logo has the game name and developer listed. The result is an easy-to-use, well-stocked casino with fantastic games and a multitude of ways to find the titles you want.
Using Spin Station for a prolonged period proved to be an intuitive and rewarding experience. The site is easy to use across several devices, so picking up and playing on the go was never an issue. Any of the 10 Best Online Casinos is an excellent choice for someone looking to play brilliant real money gambling games. However, Spin Station surprised us with its vast casino game library and user-friendly features.
Casino Bonuses and Promotions
Casinos run promotions throughout the year, but they aren't often enticing enough to get you to join. That's where the welcome bonus comes into play. A welcome bonus is designed to get you signed up to an online casino and start playing some fantastic games.
The welcome bonus at Spin Station takes on a familiar three-stage deposit bonus. This means each of your first three qualifying deposits will reward you with bonus cash and free spins. The first stage is a 100% deposit match up to £350 and includes 20 free spins for Starburst. The second stage is a 50% match up to £500 with 50 free spins for Gonzo's Quest. Lastly, the final stage of the welcome bonus is a 75% deposit match up to £500 and comes with 30 free spins for Twin Spin.
Almost every welcome bonus for an online casino is worth taking, as it normally gives you something for nothing. At Spin Station, the maximum you can get out of your three deposits is £1250 in bonus funds and 100 free spins for three very popular slots. After you sign up and claim the welcome bonus, you can investigate the promotions being run at Spin Station throughout the year; it's not just a casino for new players!
Spin Station has a competitive welcome bonus, placing it on the 10 Best Online Casinos Sites.
Spin Station Promo Codes
Online casinos like to give back to their loyal players. One such way an online casino can give out rewards is with promo codes. These codes often get distributed via email and allow players to claim bonuses like free spins or cash funds. Sometimes the rewards given out via promo codes are region-locked, so be sure to check the terms and conditions before you redeem.
At Spin Station there is a special tab for redeeming promo codes once you log in. Unfortunately, throughout our stay with the casino, we did not receive any promotional codes. When we reached out to the support team, we were told to ensure our marketing preferences allow all forms of communication from the casino to receive promo codes.
Can You Get Free Spins?
An online casino that doesn't offer any free spins is standing out from the crowd for all the wrong reasons. The free spins at Spin Station are excellent, they involve well-known titles that get played regularly. If you are unaware of what a free spin is, think of it as a chance to play a particular slot for free. Any winnings you earn while playing for free are usually subject to wagering requirements.
The welcome bonus gives you free spins for three very popular online slots. Starburst, Gonzo's Quest, and Twin Spin are three massive names in the world of online gambling, and they are all developed by an industry-leading game provider, NetEnt. While this may not appeal to everyone, having a welcome bonus that allows you to play high-quality slots for free is a fantastic way to get started at an online casino.
Are there any No Deposit Bonuses?
A casino promotion we are seeing more and more of is the 'no deposit bonus'. This is where players can get a reward without needing to make a deposit. Spin Station does not feature any no deposit bonuses for new players, instead they are reserved for VIPs. The VIP system comprises four tiers: silver, gold, platinum, and centurion. Each tier has more prizes and rewards for VIPs to claim, including bonus funds, free spins, and special invites to unique events and tournaments.
If you are looking for one online casino to stay and play, then Spin Station is a superb choice. With a rewarding VIP system and a tremendous variety of games, this online casino is a brilliant choice; even when compared to others at the 10 Best Online Casino Sites.
Is There a Good Selection of Online Slots?
With a name like Spin Station, you would expect this online casino to have an incredible selection of slots. If that is what you were expecting, then you will avoid disappointment, as the number of slots at this casino is in the thousands. There is an enormous library of slots from well-known developers like NetEnt and Microgaming, to independent game providers from around the world. Whatever type of slot or theme you enjoy, there is an abundance of choice at this online casino.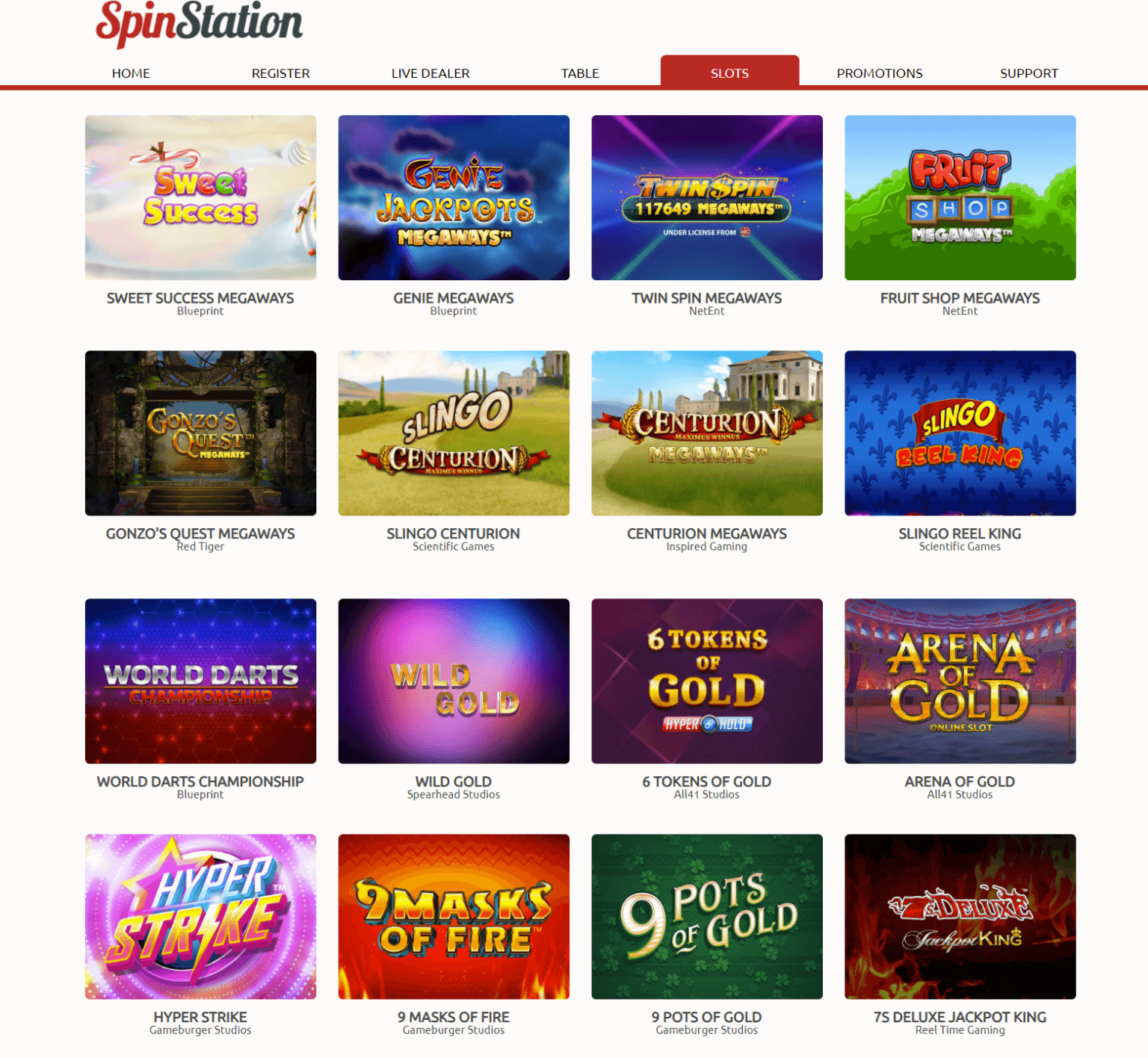 If you are like us, then you have considerable experience playing a wide variety of slots. You may have favourites that you return to from time to time, but there is no greater excitement than playing a new game. Online casinos that regularly add slots or other casino games to their platform are few and far between, but Spin Station is one of them. The rate at which they add new slots to the platform was impressive, often once a week!
If you're new to the world of online gambling, there is an excellent selection of slots for you. It's daunting to click on the slots tab and select a game to play from the list of thousands. Spin Station has an elegant solution to this problem, the provider tab. In this tab, game developers get ordered by the number of games you can play at the online casino. This reduces your feasible options to hundreds, rather than an endless stream of titles. While choosing one slot from 100+ is still a challenge, picking anything from NetEnt, Microgaming, or Play'n Go is a sure-fire way to find a high-quality casino game!
Looking for the best casino for online slots? Don't forget to check out our review of Jackpot Village Casino.
Spin Station's Live Games
Evolution Gaming provides live games at Spin Station. This is great news for any live gaming fan, as Evolution supports live poker, blackjack, roulette, baccarat, game shows, and more!
What makes the live games at Spin Station appealing is the varied selection you can choose from. Not only will you be able to choose from a range of roulette tables, but they also vary in rules, betting times, and spin speeds; allowing you to pick the table most suited to you.
As well as roulette variations, there are several types of poker, hundreds of blackjack tables, and even electrifying game shows. If you have yet to try out live game shows, the options at Spin Station are fantastic.
Besides unique and varied games, what else can you expect from the live games at Spin Station? There are multiple features designed to make your life easier while browsing live casino games. Accurate player counts and live previews of games allow you to see how many players are in the lobby and who the croupier is before you join.
Another feature that makes playing live games even more exciting is the split-screen feature. This allows you to have up to four different live games open simultaneously, where you can jump between them at the click of a button.
Having a brilliant range of live games and user-friendly tools helps make Spin Station an excellent online casino for live games. It has rightfully earned a spot on the 10 Best Live Dealer Sites!
Can you Play Blackjack?
It's common for online casinos to offer their players blackjack tables to play. However, for a casino to make it on the list of the 10 Best Online Blackjack Sites, it has to do more than your average establishment.
Spin Station has a fantastic range of both online and live blackjack tables. The online blackjack games are from a wide range of industry-leading developers, like NetEnt and Microgaming. The games themselves vary with HD graphics, unique sounds, and several varied side bets. Also, the online games include Blackjack 6 in 1, where you can play three hands at a time and bet on up to six different side bets.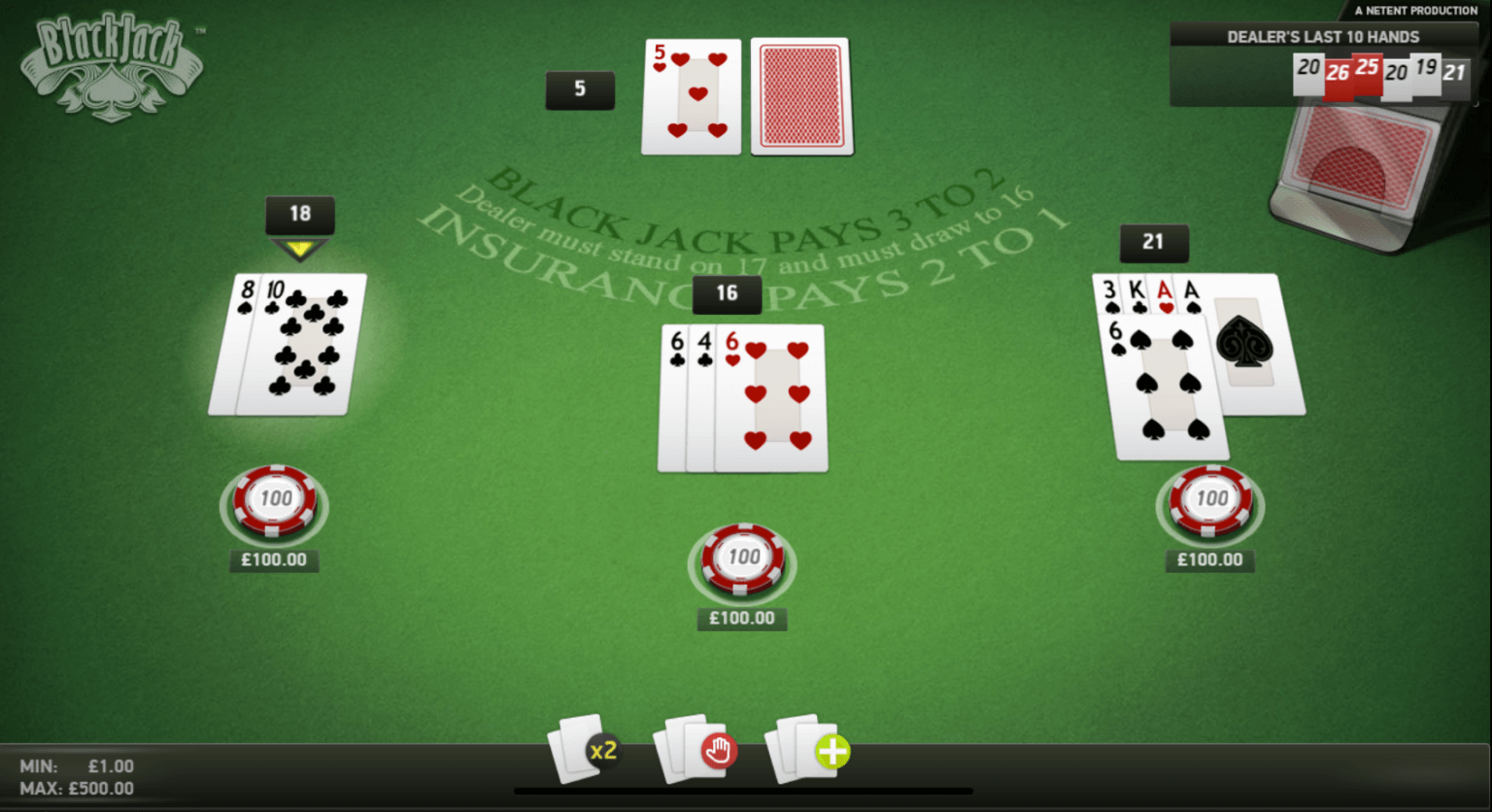 The live blackjack options are arguably even better, as there are around 100 tables to choose from 24 hours a day, seven days a week. These tables vary in bet sizes, game speeds, and some even allow you to bet behind players if the table is full. They mark any available spaces when they become available, allowing you to jump right into the exact seat at the exact table!
While there are some online casinos on our list that might have more than Spin Station, one thing is certain; you will avoid disappointment if you sign up to play blackjack here.
Can you Play Roulette?
Roulette is a fantastic casino game as it has incredible payouts and scintillating gameplay. The selection at Spin Station is once again very comprehensive, as there is a mix of online and live roulette games.
The live game options include European, Double Ball, Immersive, and various types of automated roulette games that are live but don't use a dealer. The choice of roulette at this casino is excellent, as they have live options to suit everyone's needs.
How does the online selection compare to live games? Once again, the casino has a superb range of online roulette games to choose from. Not only are there titles from the likes of NetEnt and Microgaming, but there are multiple variants to choose from.
Are there online casinos with a better selection of roulette games? Check out our 10 Best Online Roulette Sites for more!
How Good are the Poker Games?
Spin Station has yet to let us down with its impressive roulette, blackjack, and selection of varied slots. Just like the previous casino game genres, the selection of poker games at this casino is excellent.
There are a few live poker games to choose from, where every player bets on the same cards, trying to get a better hand than the dealer. The live poker games you can play include Casino Hold'em, Three Card Poker, and Caribbean Stud. However, there are no poker games where you go up against other players at Spin Station.
The online poker game selection outshines live games as there is a far greater choice. There are Texas Hold'em games and variants like Hedge'em, plus casino classics like Fortune Pai Gow and Jacks or Better.
If poker is your favourite genre of casino game, make sure to also check out The Grand Ivy Casino!
Is Spin Stations a Mobile Casino?
Most online casinos have mobile support, which allows you to pick up and play casino games on your smartphone or tablet. Android users can download a standalone app to play Spin Station on the go, but iOS users will have to go through a web browser. Any Android user can also visit the site via a browser if they do not want to download the app.
The mobile support was very consistent, and we rarely had any troubles. The user interface (UI) took some getting used to, as the red persistent toolbar at the bottom of the page has the live chat as the first icon. Normally, the first icon is the most important, like the main menu or game genre tab, but at this casino, it's the live chat. The excellent service provided by Spin Station was not dampened by the mobile UI.
Navigating the mobile site is easy once you are used to the button placements. You get a choice of views when browsing casino games, either as icons or in a list view. Interestingly, the game icons are quite small on the Spin Station app, which might be problematic for people with visual impairments. They help combat this issue by listing both the game name and the developer below every single title.
Other than minor gripes, using the mobile version of Spin Station was an enjoyable experience. The most important part of any mobile casino is to provide functionality for the games, and that's exactly what this casino does. Most games have support in either orientation, and we never had a game crash or fail to load.
How Long are the Withdrawal Times?
Spin Station's withdrawal times were quicker than the industry standard of three working days. During our prolonged stay, we would see withdrawals approved within two days and had no issues when contacting support about the process. The support team remained friendly, patient, and responsive every time we reached out, which is something we wish we saw at every online casino.
What are the Overall Impressions?
Having played at many online casinos, it's obvious when an online casino is doing more than the run-of-the-mill establishment. Having a humongous library of games is one thing, but continually adding to them throughout our stay was fantastic. Not only did they add new games, but they would add themed games for certain calendar events throughout the year, including Christmas, Halloween, and Chinese New Year slots.
Sure, we would love to see even more live poker games, a standalone iOS app, and even minor changes to the UI for the mobile website, but does that take anything away from Spin Station? Not really. The overall experience at this casino is pleasant, exciting, and easy to use, with its 1000+ game library and counting.
If the games keep on coming, then Spin Station will remain a very recommendable well-rounded online casino.
Pros & Cons
Plenty of Jackpot Slots to Choose From
Larger-Than-Average Welcome Bonus
Competent and Helpful Customer Service
No Sports Betting
Small mobile game icons