Spin Rider Casino Review – Spin That Wheel!
Spin Rider is one of those online casinos that seems to have a bit of something for everyone. With an abundance of slots, an incredible selection of table games, and the latest live game shows, Spin Rider is a much better choice than you might think.
We usually talk about the effectiveness of an online casino theme in setting the scene for the players, and Spin Rider is no exception. The mysterious imagery immediately sets the tone for some serious game time. The animated image at the top of the homepage is full of promos for iconic casino games, neon signs of the most prominent developers, and a shiny black sports car. All of which combines into an impressive looking online casino right from the get-go.
Spin Rider has multiple categories to help refine your casino game options. A feature which is especially useful given how many games there are to choose from. These helpful tabs follow you down the page, making it easy to search for a new game or change category at a moment's notice.
Besides the helpful navigation tools and the dark colour scheme, Spin Rider has a brilliant range of casino games. There is no shortage of options at this online casino, from progressive jackpots to several poker types, they really spoil you for choice.
Before we jump into any specific details, is Spin Rider a casino for the average player? Without a doubt, yes. It's one of those online casinos that does everything to a high standard. This means there should be an abundance of options for you, whatever type of casino game you are looking to play.
Any online casino that caters to most players will score favourably on the 10 Best Online Casinos.
Spin Rider Promotions & Bonuses
Spin Rider separates its welcome bonus into your first three deposits. Each time you make a qualifying deposit, a percentage of it will get matched, and you'll also receive some bonus spins for any NetEnt game.
The welcome bonus' first stage is a 100% deposit match up to £400 and 50 bonus spins for any NetEnt game. The second stage is a 40% match with 20 bonus spins, with the third stage matching 80% of your deposit up to £500 and comes with 40 bonus spins.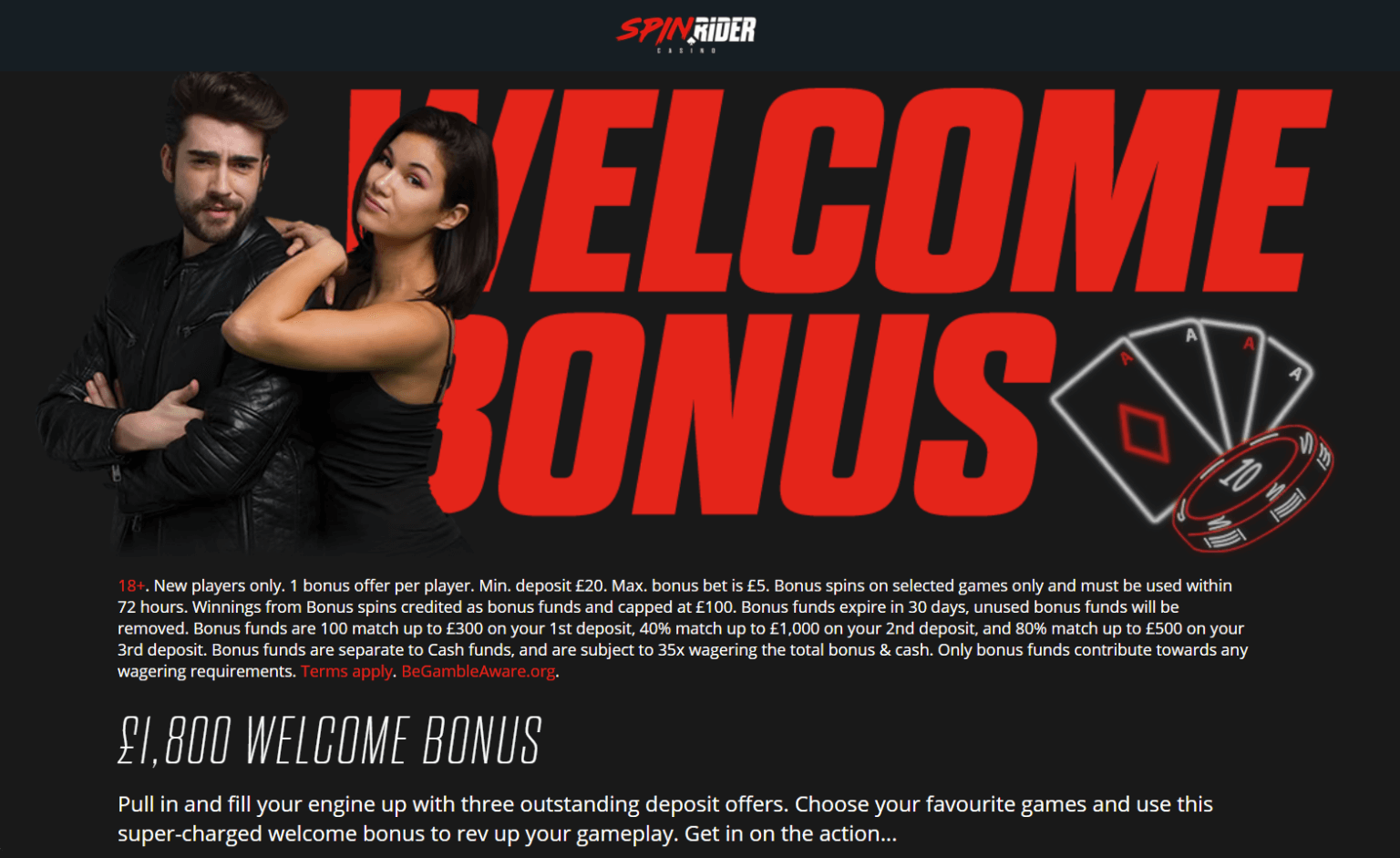 While there are many online casinos at the 10 Best Online Casinos that offer higher deposit matches, the welcome bonus at Spin Rider is well worth your time. You may get fewer bonus spins, but you get to use them on whatever slots you want – if NetEnt develops it.
Usually, welcome bonuses appear generous but are very restrictive with where and how you can use them. The welcome bonus at Spin Rider crosses the line into substantial and offers you a lot of freedom.
Can You get Promo Codes?
If you are wondering if Spin Rifer is the type of casino to give out promo codes, you'd be correct. There is a section inside your account where you can enter promo codes which states you can receive them via email and phone. To have a chance of receiving any promo codes, you need to opt in for the marketing communication. We did not receive any promo codes during our time with the casino.
Like many online casinos, Spin Rider runs multiple promotions throughout the year. One such offer is the 718 Cayman Coupé, where you can win a brand-new Porsche sports car. All you have to do is earn a Spin Rider Ticket and wait 12 weeks for the raffle to take place. We couldn't win a car, which is probably for the best as we would want you to have it!
Casinos change their offers and promotions all the time, making it challenging to keep up. If the promotions at Spin Rider alter, we will try our best to update the 10 Best Online Casinos review.
Are There Free Spins?
The free spins at Spin Rider are excellent. Not necessarily because of the number of spins, but the quality is indisputable. The beauty of these free spins is you get to choose what NetEnt slots you use them on, which is especially exciting, seeing as there are 146 NetEnt games on the platform. Having an online casino that gives you the option to choose what games to play for free is a wonderful sight to see.
You can get more free spins, but this is a luxury reserved for VIP members. Once you are a VIP, you will get more bonus cash to play with, tailored cashback offers, and even brilliant bonuses on your birthday. If you are a regular player, becoming a VIP is something that may well happen, eventually.
No Deposit
During our stay, we did not see any no deposit bonuses or promotions. Promotions change all the time, so we try our best to keep an eye on any online casino we review.
Is There a Good Selection of Slots
The variety and quality of slots at Spin Rider is not to be understated. There is a very comprehensive range of iconic slots, like Rainbow Riches and Book of Dead. Which nearly overshadows an ever-growing, regularly updated catalogue of new additions.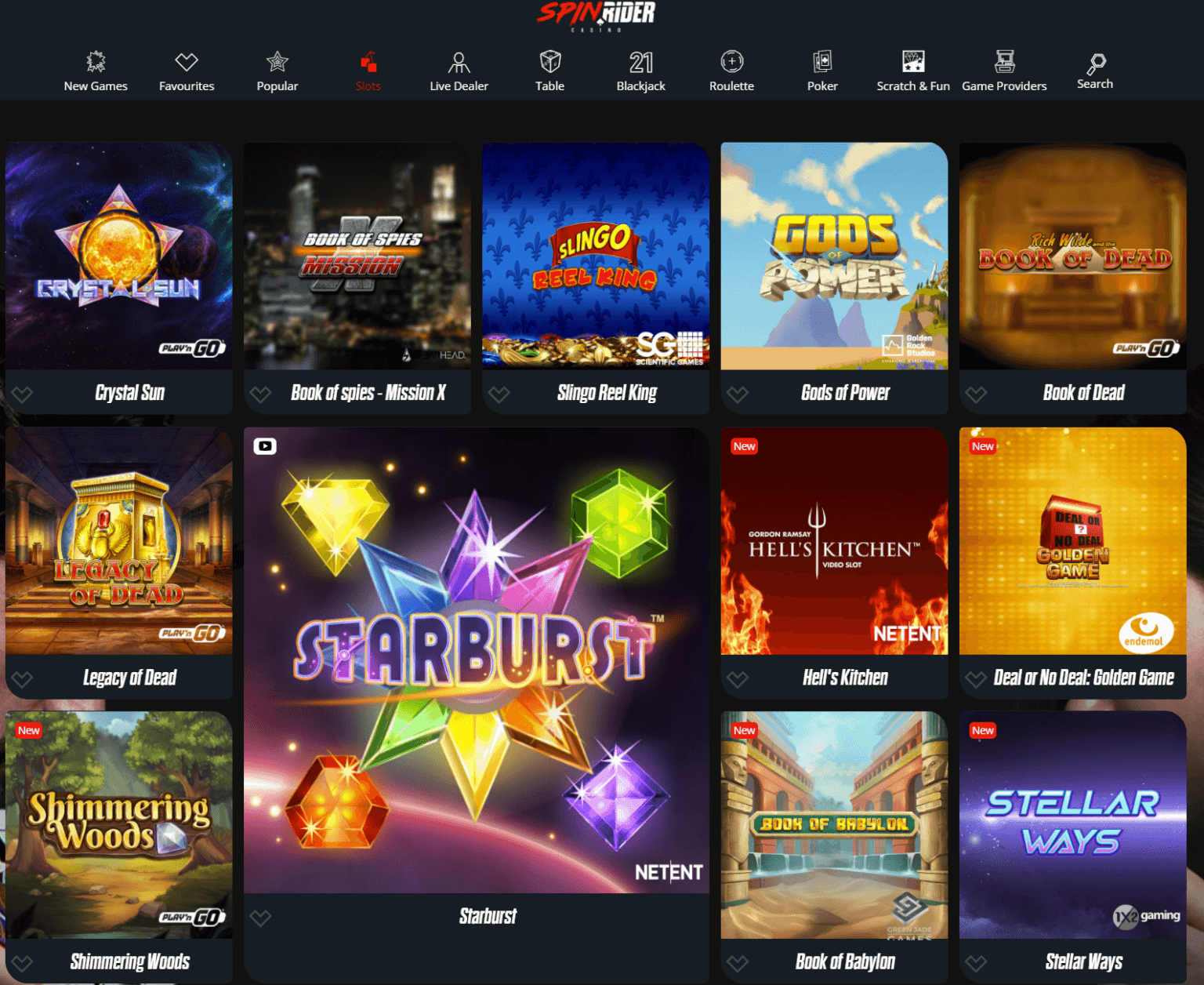 During our visit, we saw brand new slots get added to the casino every week. The new games give you something new to play, even if you've played most of the thousands of slots available on the platform.
Spin Rider focuses on progressive jackpots, with big names like Mega Moolah, Hall of Gods, and Winstar. While there is no dedicated tab or category just for progressive slots, there is an excellent selection. If these slots were easier to find, it would be even easier to recommend!
If you wanted to play at an online that has an unrivalled selection of slots, then you should read the Jackpot Village review.
How Good are the Live Games?
The selection of live dealer games is surprising, in a good way! The choices are abundant, including several roulette games, blackjack, poker, and electrifying game shows. While live games might not be what Spin Rider is famous for, it certainly does enough to stand out from the competition.
The live dealer game page has a clear and concise layout, where you can quickly jump to exactly what type of live casino game you are looking for. The number of players spectating in each game is displayed as well as the number of free spaces at blackjack tables. Some live games even show the previous few results, allowing you to see what you have missed without joining the fun.
They update the page regularly, allowing you to hover over each game icon to see who the current host or croupier is. If you are the type of person to have a favourite croupier or any other superstition, this feature makes the perfect game effortless to find.
The variety of live dealer games and the constant increase of new additions make Spin Rider very easy to recommend, no matter what type of live game you enjoy playing. This is one of the many reasons why it made it onto our list of the 10 Best Live Dealer Sites.
Does Spin Rider have Blackjack?
The blackjack options at Spin Rider are also worth examining. If you were only looking to play live blackjack, there are often 90 tables available with varying wagering requirements. When the table you want is full, you can choose to bet behind or spectate while waiting for a seat to become available.
If you weren't looking for live blackjack and just wanted online tables against the computer, would it satisfy you? Once again, the answer is a resounding, yes! There are several online blackjacks to choose from, including games developed by NetEnt and Microgaming. If you were looking for blackjack tables with multiple side bets, there are lots of options to consider.
Don't forget to examine other casinos at 10 Best Online Blackjack sites before you sign up.
How Good are the Roulette Tables?
Spin Rider offers a fabulous range of roulette tables, including multiple types of live and online roulette. If you have played roulette before, then you know that having many options is always a good thing.
Online casinos traditionally cater to two types of players; ones who want to relive the brick-and-mortar casino feeling with live-streamed croupiers, and players who want the entire process played at their own pace. Whatever player you are, you will avoid disappointment at Spin Rider.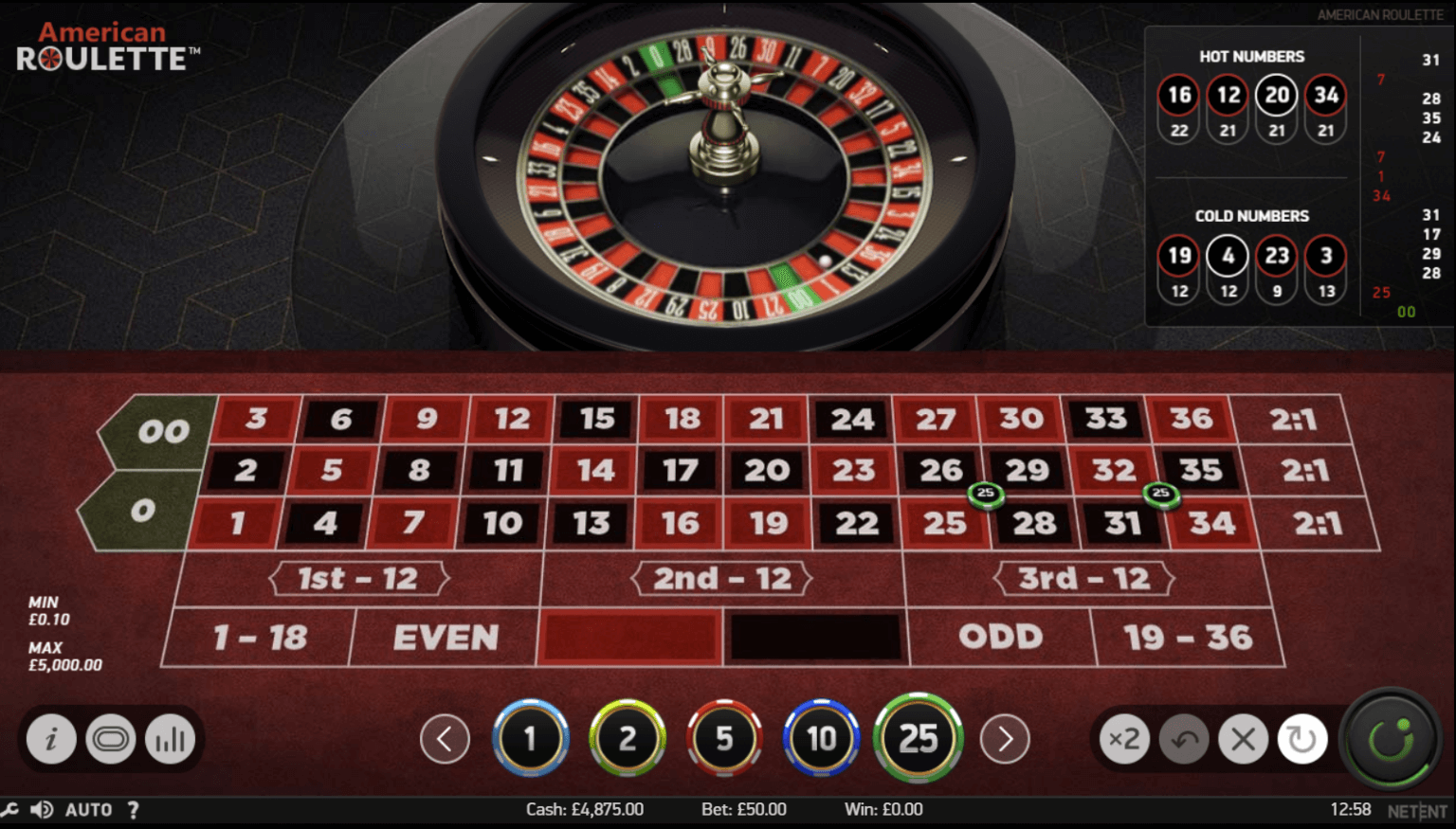 The live roulette options include several European, Auto, VIP, and a few more entertaining variations like Lightning Roulette. Lightning Roulette doesn't just sound exciting, it can deliver up to 500x your stake if you make a winning inside bet. If you would rather avoid a game show host, you can choose from a range of options, like Auto-Roulette La Partage or Double Ball Roulette.
There is still an abundance of options to consider if you don't like watching a live-streamed roulette wheel. These options Include multiple tables of European Roulette developed by world renown names, such as NetEnt, Microgaming, and 1×2 Gaming. If you wanted some variation from just the European version, you could choose from American, French, and Double Ball Roulette tables.
Overall, the roulette options at Spin Rider are hard to beat, with the casino offering a multitude of tables for both live and online players. The varied and diverse options gave this casino a favourable score on the 10 Best Online Roulette Sites.
Are There Multiple Poker Games?
The poker options at Spin Rider cater to players looking to go up against a live croupier and players who enjoy taking on the computer. While both sections have a good range of poker games to choose from, there is a larger choice of online poker games than live ones.
All the poker games hosted at this casino are table poker games, meaning any winnings are from the casino's pocket, not from any of the players.
There is a fantastic range of poker games to choose from, including popular Texas Hold'em variants such as Hedge'em and Let It Ride. There are other types of poker for players not so keen on Texas Hold'em, including Mississippi Stud, Fortune Pai Gow, and the iconic Aces and Eights.
The live poker options are similar to the online section mentioned above, as there are far more Texas Hold'em titles available than anything else. If you wanted to avoid Texas Hold'em and all its variants, Spin Rider also offers live Three Card Poker and Caribbean Stud.
Is Spin Rider a Mobile Casino?
Every online casino should have mobile support. Whether it's a standalone app or functionality for mobile browsers, players should be able to play on the go.
Spin Rider has given mobile compatibility some thought as the site transitions wonderfully onto mobile devices. Everything from the text to the toolbar, has survived the move to mobile with little to no consequences.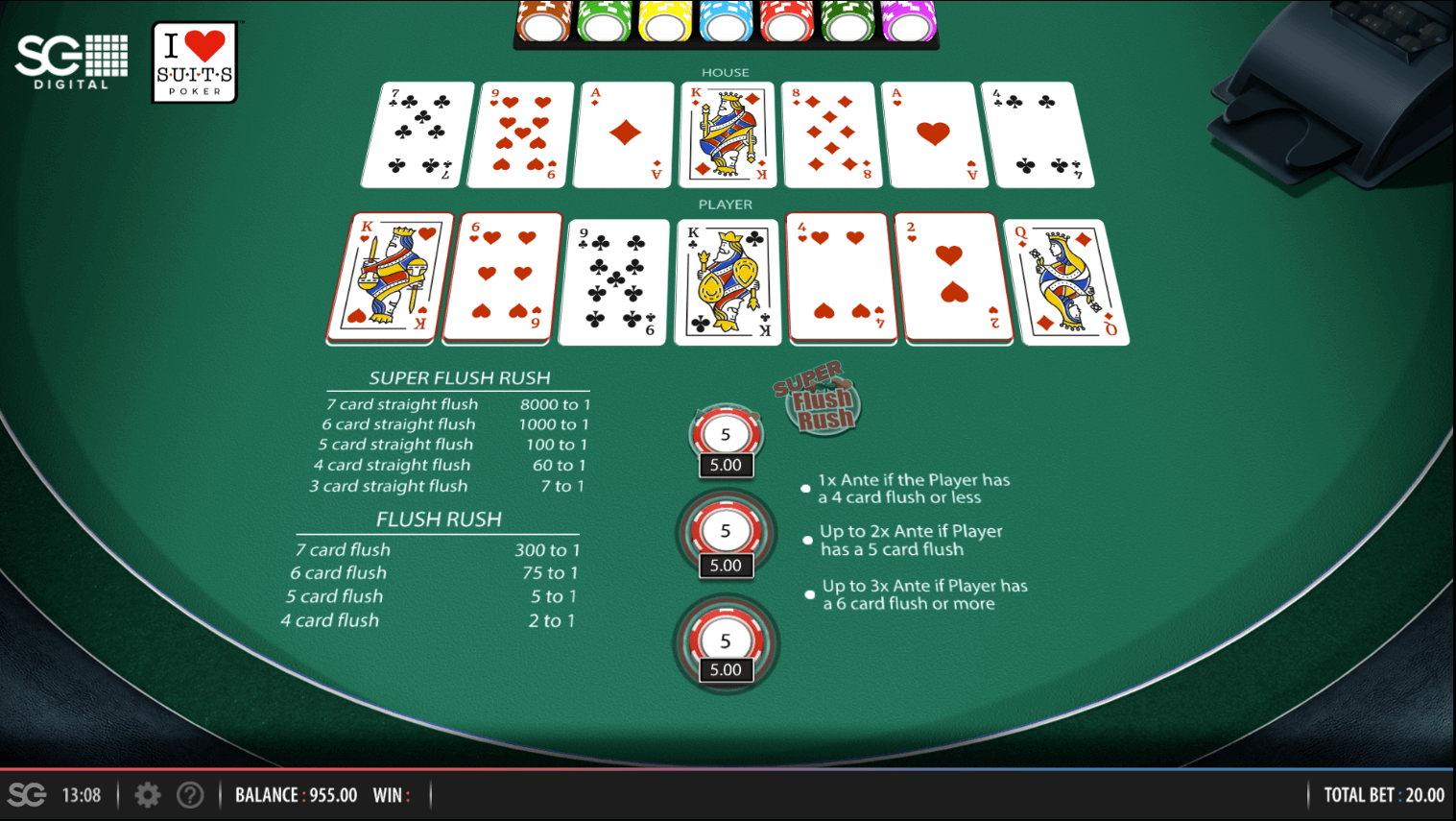 User-friendly features, like a persistent navigation bar; follows you down the page as you browse. The navigation bar has multiple casino game categories to help you find the one you want to play. What's especially useful is the toolbar hasn't suffered from the transition to fit on mobile, as it still includes a majority of the desktop game tabs to cycle between.
Another feature that helps make the experience more pleasant on mobile is the favouriting system. This is where you can add any game to a list of your favourites, making it incredibly easy to locate the games you play regularly. The games you add only appear when you click on the "Favourites Tab" – another nifty feature to avoid clutter.
If you want an online casino with standalone mobile apps for both iOS and Android, check out Dream Vegas.
Spin Rider Withdrawal Times
The withdrawal speeds at Spin Rider were quicker than the industry standard of three working days. Our first withdrawal took just under three days to approve, which technical support confirmed as to being part of the usual procedure. All other withdrawals were inside our bank account within two days.
While we would enjoy even quicker withdrawal times, the friendly and helpful support team was a pleasant surprise. Although having a live chat support feature is nothing new to the world of online casinos, the team at Spin Rider is doing an outstanding job.
Overall Impressions Spin Rider
Our overall impressions of Spin Rider were unquestionably positive. This online casino is a significantly better option than your run-of-the-mill casino, a claim that is easily backed up by the fantastic support team and the phenomenal range of games.
During our visit, there was a large number of casino games being added every week. The new additions we saw were for many genres, including slots, table games, and live dealers. Although some of you may expect an online casino to add new games, the consistency at which they were added to Spin Rider was impressive.
The positives don't stop with fresh additions, the overall casino experience seems to be carefully considered and designed with you in mind. While the theme and colour scheme might not be everyone's cup of tea, one thing we can all agree on is that finding the games you want is trouble-free.
If you were looking for a casino with an incredible range of casino games, from slots to live dealers, blackjack to baccarat, Spin Rider is a fantastic choice!
Pros & Cons
Mobile friendly
Huge variety of casino games
Easy to use
Customer support in FIVE different languages
US & Australia players are not accepted